Kilmeena U12's and U13's were presented with their medals and kit bags at a very well attended, and a most enjoyable occasion at the clubhouse on Monday the 20th January 2014. Again it was great to see the large number of parents in attendance.
In 2013 Kilmeena under 12s won their section of the County League, and the under 13 team went on to win a County title, defeating Claremorris in the final. These two great wins were the culmination of a terrific year for these boys which started off with a visit to Croke Park where they competed in a blitz. Great credit goes to the management team of Peter Carney, Michael Gavin, Dermot Mullin, Billy McGonagle and Nicholas Duffy.
Lee Keegan was on hand, to make the various presentations and to offer his advice to the boys for their advancement in the future. Kilmeena Club wishes to thank everyone associated with this event and especially Jim and Pauline Goggins from Fahy who sponsored a magnificent set of kit bags for the winning teams, it is greatly appreciated.
Willie Keaveney
Chairman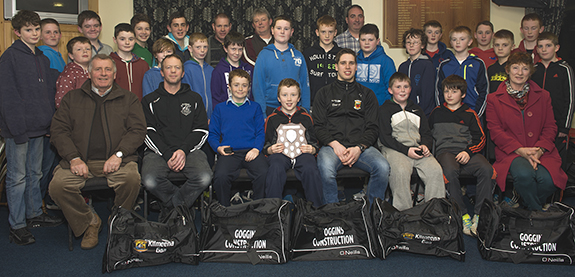 The U12's and U13's pictured with their Managers and Kit Sponsors, Pauline and Jim Goggins, following the presentation of medals and kitbags by County Footballer and GAA All-Star Lee Keegan.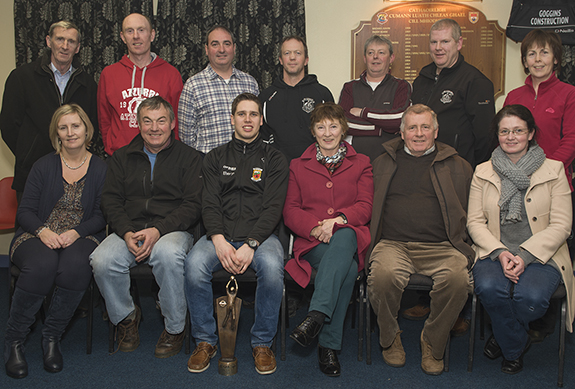 Club members in attendance at the presentation.
Back Row L - R: Michael Ryan, Padraic Moore, Peter Carney, Dermot Mullen, Nicholas Duffy, Neil O'Donnell; Club Secretary and Ann Moore.
Front Row L - R: Stephanie Carney, Willie Keaveney; Club Chairman, County Player and GAA All-Star Lee Keegan, Pauline and Jim Goggins Kit Sponsors; and Diane Mullen.
more... https://picasaweb.google.com/116414218992329230135/UnderagePresentationLeeKeeganClubhouse?gsessionid=WzZAqgzf1rWEVxWIzjLwKQ#5971289980834813330