KILMEENA FOOTBALLER WEDS IN CANADA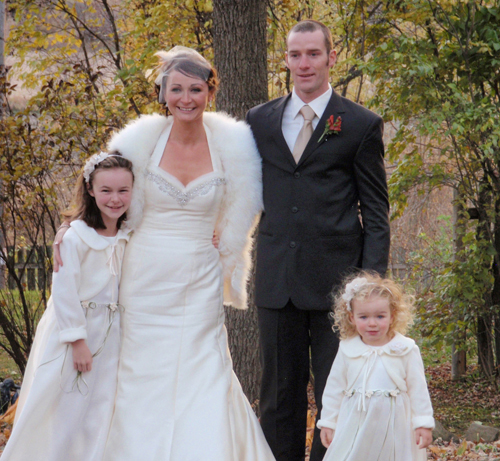 Nigel and Laura pictured with their two girls, Jessicia on the left and Issabelle.

Nigel Madden, a regular member of the Kilmeena Senior football team, recently married Laura Clarke from Tourmakeady in Stratmere near Ottawa Canada. They emigrated to Canada earlier this year. His absence is a major loss to the club. Their departure linked to the downturn in the Irish economy. This is a phenomenon that is becoming more and more of a headache for GAA clubs throughout the country.

They have integrated easily into the GAA world since arriving there. Both are playing football in their adopted Country. Nigel is playing with Ottawa Gaels Senior team. He should consider himself at home in his new surroundings since his team members are all Irish Immigrants. Since his arrival, Nigel was elected Vice Chairman of the club..

Not to be outdone, Laura has  started to play Gaelic football for the first time, and we believe is acquitting her self pretty well at the game. We wish them well for the future and hope to see them home again soon.