Kilmeena Footballer makes his Debut on the Irish International Athletic Team
Heartiest congratulations to 17yr old Ronan Kelly Buckfield, son of Michael and Breda, on his call up earlier this year to represent his Country on the Under 18  400m X 400m relay team achieving a silver medal in the events in the Celtic Games, held in Athlone on August the 7th last. No mean achievement considering the quality of the opposition comprising of Celtic nations Ireland, Scotland, Wales and Northern Ireland.
Ronan secured his place on the Irish squad on the basis of his previous excellent performances for his club Galway City harriers, having transferred there from Westport Athletic Club in September 2009. Connaught Champion in the indoor and outdoor 60m, 100m and 200m events for 2007, 2008, 2009 and 2010. While a member of Westport Athletic Club, he also won All Ireland Bronze in the Long Jump in 2008 and Silver in the
same event in 2009 at the All Ireland indoor Championships in Northern Ireland.
In April 2010 he won silver in the U18 4 x 200 relay and bronze in the U19 4 x 200m relay at the indoor championship in Tipp. 

He rapidly established himself as a quality 400m athlete securing All-Ireland medals, in the 400m individual and in the U18 and U19 400m relay events in the outdoor All-Ireland finals held earlier this year in Tullamore, thus prompting his invite onto the Irish team.
Peter Murray is  announced as kilmeena Football Manager (12th February) 
Chairman Mickey Carney formally announced Peter Murray as the new Kilmeena Senior Football Manager last night  . The announcement was made at a meeting of the Club Officeers and Senior Players in the Club House  last night before training. Speaking passionately about what he hopes the club can achieve , the chairman expressed his delight having secured Peter's services for this coming season. " If ever there was a player that was tough,  passionate, committeed and totally in love with the Kilmeena Jersey, it was Peter Murray.  I know he will bring all of those characteristics with him into management, " the Chairman said.  
He wished Peter and all the players the very best of luck in the coming season and assured them that they will have the full support of all the committee during the year. Peter is straight into action in his new role. The evening ( Saturday 13th of February) at 4pm ,Kilmeena face Burrishoole in the Kelly Cup in Kilmeena.
The very best of luck Peter to you and all the players. The whole Parish is behind you!!!!!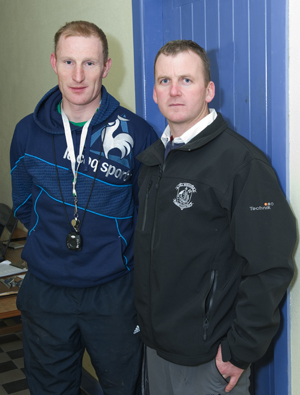 Newly  appointed Senior Team Manager - Peter Murray with Fitness Coach Padraig Marrey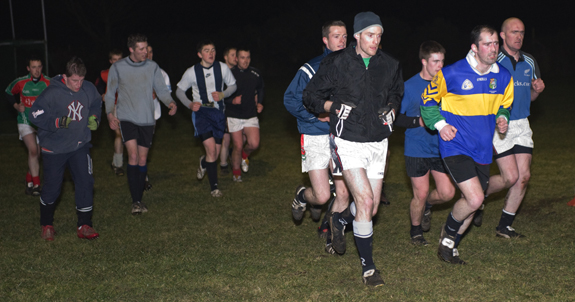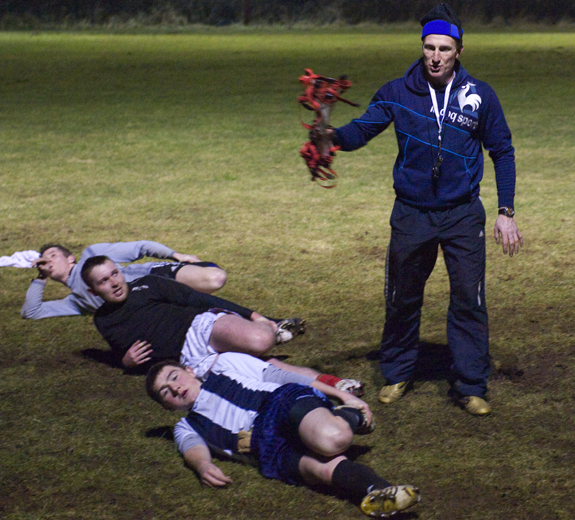 Padraig putting his charges through their paces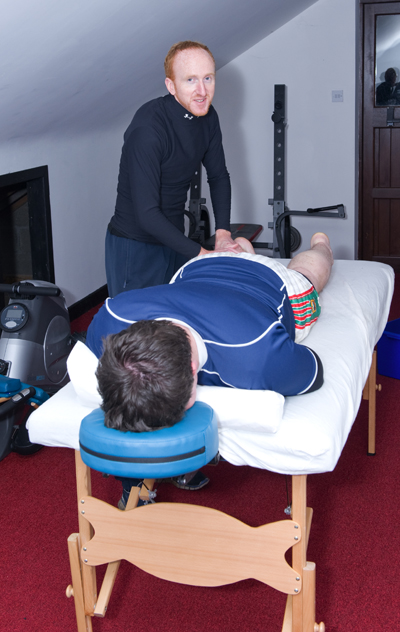 "Work under repair"
Club Physiotherapist Robert Malseed, will be attending to the needs of the Kilmeena Players for the coming season.