Kilmeena hosted Achill in this U14 West Mayo 'B' Championship preliminary round game.
Having been involved in an adsorbing contest only four days previously and with five key players unavailable this evening, this was always going to be a challenge for Kilmeena – and so it proved…
Playing against a light breeze, Achill were first on the scoreboard, with a well taken point. Kilmeena settled into the game and responded with a goal from the boot of Finley Gibbons. Achill replied with two further points to level the contest at the end of the first quarter.
However, by this stage, the Kilmeena lads were growing in confidence and when Cillian O'Grady found Finley Gibbons with an accurate diagonal pass, Finley duly obliged to score his and Kilmeena's second goal. A third goal soon followed after a Kilmeena free kick dropped just short, only to be seized upon by Finley Gibbons and dispatched to the Achill net. This was followed shortly afterwards with a converted free kick from the boot of Cillian O'Grady; to give Kilmeena a 7 point lead.
However, Achill responded well thereafter; scoring two goals in succession.
Colin Hastings then wrapped up the first half scoring for Kilmeena, with a well taken point; to give the home side a 2 point advantage on a scoreline of 3 - 2 to 2 – 3 at the small whistle.
The second half began positively for Achill, as they gained possession from the throw-in and ran at the Kilmeena defence, in a move that yielded a quick goal for the visitors.
Having put in a huge effort in the first 30 minutes and now playing into a strengthening wind, Kilmeena struggled to get the ball into the Achill half. In spite of the fantastic efforts of Jack Mulchrone and the excellent defending of Ben Lennon & Cormac Lyons, Achill were finding gaps in the Kilmeena half and they punished Kilmeena with a number of scores, including three goals.
At the other end, Darragh Slattery's goal midway through the second period did give Kilmeena a boost, but unfortunately, they could not build on this. As is their trait, the Kilmeena lads did not give up without a fight, with every player and sub giving it their all to the final whistle.
The panel present this evening comprised of the following:
Evan O'Donnell, Ben Lennon, Cormac Lyons, Jamie Staunton, Jack Mulchrone, Colin Hastings, Darragh Slattery, Finley Gibbons, Ciaran Kilcoyne, Cillian O'Grady, Brian Durkan, Rory Nolan (Capt), Daniel O'Malley, Gavin Mulchrone, Sean Gallagher, Cian O'Brien, Lorcan Caody, Jack Walsh, Tadgh Costello, Adam O'Grady, Cormac Feehan, Ross Nolan, R Kilcoyne
Well Done Lads……
Match report; Michael O'Grady

Kilmeena 4 - 7 7 - 11 Achill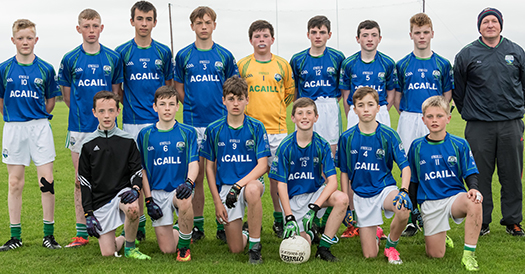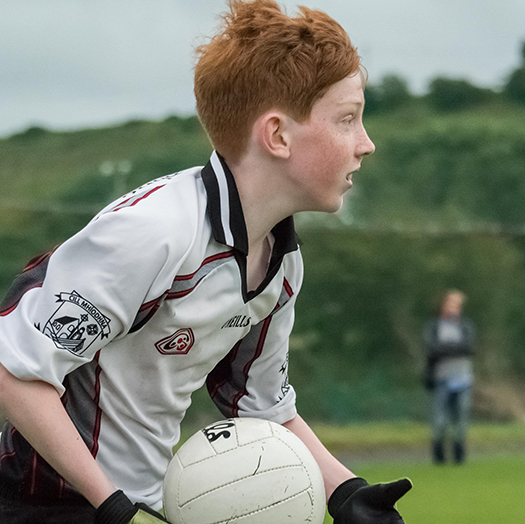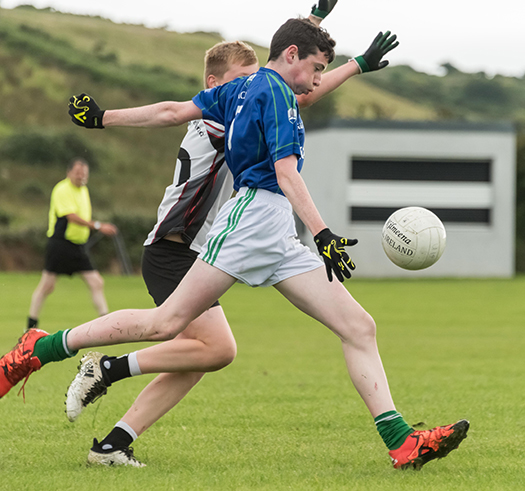 more...
Kilmeena travelled to Swinford, to take on North Mayo opposition, Ardnaree in this U14C Championship semi-final.
From the first to the final whistle, this was a game played at a high tempo – with both teams getting stuck in!!
Kilmeena pointed and netted in equal measure during the first 30 minutes. The four Kilmeena goals came from the boots of Jamie Staunton, Jack Mulchrone and Finley Gibbons (2). Ardnaree also netted on three occasions during this period and pointed on six occasions; to give a half time scoreline and one point advantage to Kilmeena of 4 – 4 to 3–6.
Kilmeena began the second half with intent and two fine points from Chris McGlynn stretched Kilmeena's lead to 3 points.
Unfortunately, with only 10 minutes or so of the second half played, Kilmeena lost the aforementioned Chris McGlynn through injury. As the second half wore on, Ardnaree pressed their game into the Kilmeena half of the field and they netted three majors in the latter 15 minute period.
To their credit, the Kilmeena lads did not give up. With Evan O'Donnell putting in a great performance in Goal, including saving a penalty (David Clarke look out…) and Darragh Slattery's well taken free-kick yielding a goal for Kilmeena in the late stages, Kilmeena gave it everything only to fall just short at the final whistle, losing by 2 points.
The panel present this evening comprised of the following:
Ben Lennon (Capt), Harry Sheridan, Cormac Lyons, Jamie Staunton, Finley Gibbons, Adam O'Grady, Colin Hastings, Chris McGlynn, Oisin Grimley, Ciaran Kilcoyne, Cillian O'Grady, Brian Durkan, Evan O'Donnell, Daniel O'Malley, Gavin Mulchrone, Sean Gallagher, Cian O'Brien, Rory Nolan, Lorcan Caody, Jack Walsh, Tadgh Costello, Darragh Slattery, Cormac Feehan.
Well Done Lads...
Match report; Michael O'Grady.
Kilmeena 5 - 07 (22) 6 - 06 (24) Ardnaree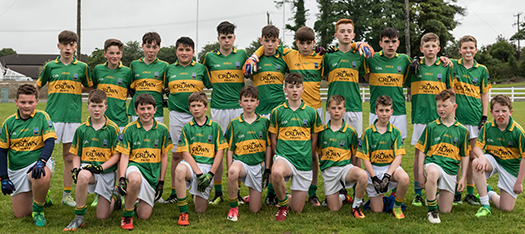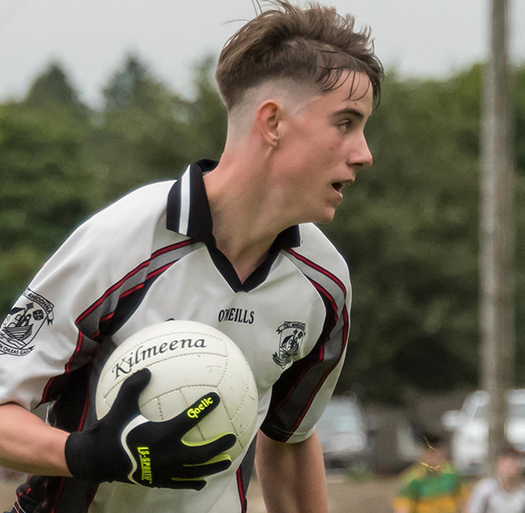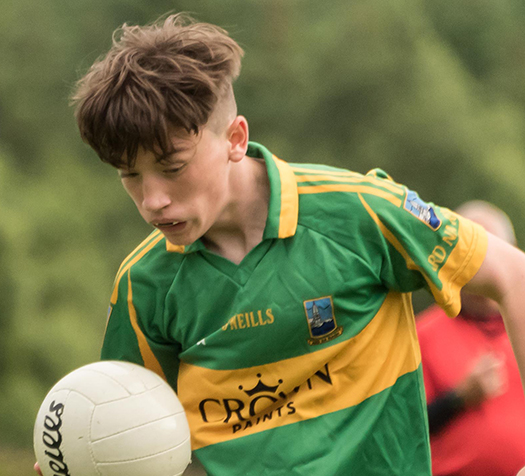 more...
Kilmeena V Ardnaree U14 Boys C C/Ship Semi-Final
Thursday, 8th June, 2017
Kilmeena vs Kiltimagh
With a win at home last week over Erris St Pat's, Kilmeena travelled to the mid-Mayo town looking for a result, that would book them a semi-final spot in the U14C Championship.
Playing a '13 aside' game, Kilmeena were first out of the blocks, with a goal from Evan O'Donnell. Shortly after, Kiltimagh responded with a point. In a generally competitive first half, both teams exchanged points, with the pick of those for Kilmeena being a long range point from Cillian O'Grady. Both teams created but squandered chances in the opening 30 minutes, with Kilmeena being the guiltier party here. Then somewhat against the run of play, Kiltimagh worked a good passage of play which resulted in a goal for the hosts. Kilmeena responded with a point to leave it 1 – 5 to 1 – 3, in favour of the visitors at the small whistle.
After the interval, Kilmeena hit the ground running, with Ciaran Kilcoyne scoring the first point of the second half. Following some minor positional changes, Kilmeena began to dominate play, gaining the vital possessions and making the runs at the Kiltimagh defence. And it wasn't long before their efforts began to pay off – a foul on Cillian O'Grady inside the square and a penalty. Up stepped Chris McGlynn; who beat the keeper with a shot into the corner.
From here to the final whistle, Kilmeena took control; with goals from Ciaran Kilcoyne, Sean Prenty, Jack Walsh and Chris McGlynn.
As Kilmeena took the foot off the gas, Kiltimagh made some inroads into the otherwise solid Kilmeena defence (Ben Lennon & Harry Sheridan in the full-back line and at half back Colin Hastings, Oisin Grimley and Darragh Slattery); to score a late goal and a brace of points.
In the end, Kilmeena were convincing winners and have booked a semi-final spot, in a match scheduled to be played in two weeks time.
The panel present this evening comprised of the following:
Darragh Slattery, Ben Lennon, Harry Sheridan, Adam O'Grady, Colin Hastings, Chris McGlynn (Capt.), Liam Moore, Sean Prenty, Oisin Grimley, Ciaran Kilcoyne, Cillian O'Grady, Brian Durkan, Evan O'Donnell, Daniel O'Malley, Gavin Mulchrone, Sean Gallagher, Cian O'Brien, Lorcan Caody, Jack Walsh, Tadgh Costello.
Well Done Lads……
Final Score: Kilmeena; 7 - 9, Kiltimagh; 2 - 6
Match report: Michael O'Grady
U14 Boys Gaelic Football – West Mayo 'B' Final
Thursday, 14th July, 2016.
St Patrick's GAA Park, Westport was the venue for this West Mayo B Final, between Kilmeena and Ballintubber.
Throw-in was set for 8pm and as is typical for the West of Ireland in mid-July (otherwise referred to as summer-time…….), the weather was overcast with light rain and drizzle.
However, not even the weather could detract from the spectacle that unfolded over the next hour and a quarter, in front of the large contingent of supporters present, for both teams. The (GAA) slogan says 'To Be There…..' and yes, to appreciate the wildly fluctuating fortunes of each team during the hour long contest, you just had 'to be there……'
As soon as Mel Kenny threw the ball in (8.10pm), the game took on a blistering pace. Kilmeena dominated the first 10 minutes, scoring 1 – 2 to a goal for Ballintubber.
However, Ballintubber steadied the ship, started wining primary possession and the lion's share of breaking ball, which allowed them to run at Kilmeena and score at will. Whilst Kilmeena battled on and scored some hard earned points, the Ballintubber dominance continued for the remainder of the first half; a period in which they put a further 5 goals in the back of the Kilmeena net.
The Ref blew for half time and with a scoreline of 6 – 5 to 1 – 7 in favour of Ballintubber, it looked like 'game over', with Kilmeena resigned to play out the remainder of this contest 'for pride of the jersey'…………. As the Kilmeena lads headed to the dugout (on the opposite side to the stand), the Ballintubber lads (with a pep in their step…….) headed to the comforts of the dressing rooms. Perhaps (in hindsight) this was a defining moment – who knows….??? 
What I do know is that every Kilmeena player and squad member present at that sideline dugout resolved to go back out onto the pitch and play to their potential - as we (management) knew they could…………..
Right from the second half throw-in, Kilmeena got down to business, wining primary possession and breaks in the middle third and driving at Ballintubber. After ten minutes of play, Kilmeena had scored 4 points - Ballintubber had netted their 7th Goal of the game plus a point in this opening period of the second half.
However, with Kilmeena now dominating possession and driving at the opposition, the ladscould sense the change of momentum in their favour and driven on by the relentless workrate of Mikey Hastings (midfield) and the runs from wing back of Ian Murphy, feeding ball to Kian Moore (up front), the scores began to clock up – 4 Goals and two points in this 10 minute spell. The more the second half wore on the greater the intensity of the play – the gap now down to a few points with less than 10 minutes to go………… Then in one of their rare forays into Kilmeena territory in the second half, Ballintubber netted their eight goal of the game. Game over…??? Not on your life……….
Back down the pitch and another superb point from Kilmeena. From the Ballintubber kickouts, Kilmeena won possession again and again and drove on scoring another goal (5th of evening) and 3 points. In between Ballintubber responded with points. The contest was frantic…….
With time almost up and the contest tied (although nobody quite knew the exact tally at this juncture…………) Chris McGlynn (now operating in the forwards) won possession and kicked a fine point – and ultimately the wining point.
The final whistle and everyone wondered…………..who the victor was. Mel Kenny (Ref) requested a few minutes to double check his scoresheet and the result………………………
Kilmeena: 5 – 18 (33 points)                      Ballintubber: 8 – 8 (32 points)
The celebrations began……………………
As Managers/Coaches to this bunch of young men, we (Padraig Moore, Michael O'Grady and James Prenty) would like to take this opportunity to say that we are very proud of what the lads have achieved over the past 5 months, culminating in this fantastic victory – West Mayo U14 B Title. 
These lads have been a pleasure to work with – skilful, determined, and committed, a hard-working bunch and full of character.
What they have achieved is a just reward for all their efforts and what they have learned will serve them well in their future sporting and personal lives.
Well Done……….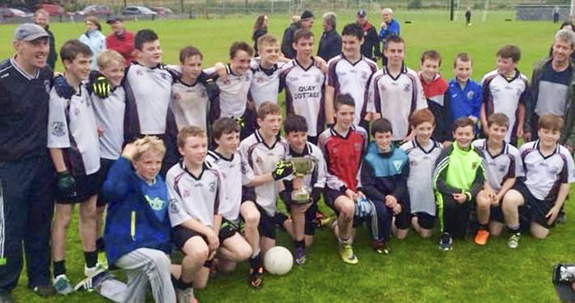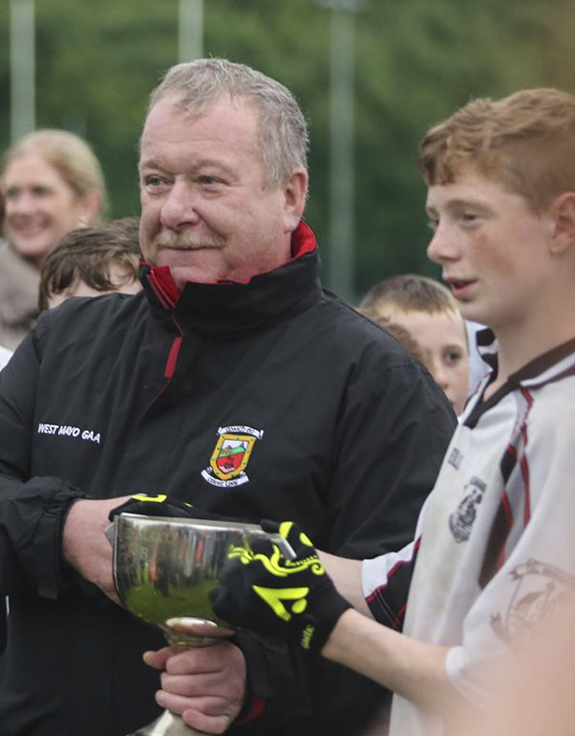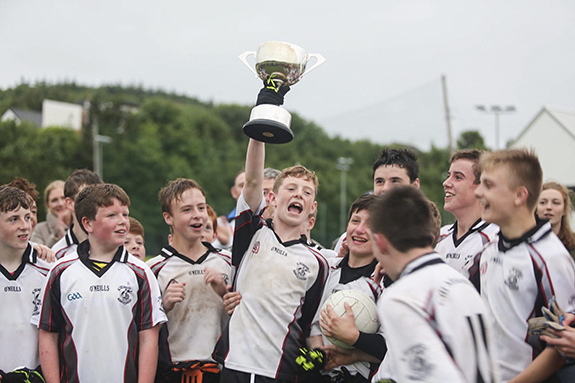 more...
https://picasaweb.google.com/116414218992329230135/6309362217995647729#6309362224353615378
(Images courtesy of Angela Campbell)
Kilmeena hosted Mayo Gaels in this final round game.
Mayo Gaels registered the game's first score, with a point from open play. Playing against a stiff wind, Kilmeena responded emphatically with goals from Chris McNally, Sean Costello and Robbie Staunton giving a scoreline of 3 goals to one point in Kilmeena's favour at the quarter hour. Once they overcame Kilmeena's first fifteen minutes of dominance, Mayo Gaels settled into the game and with a strong wind on their backs, they posted 5 points on the trot. Kilmeena continued to press and their efforts were rewarded with a fourth goal – scored by Chris McNally. Mayo Gaels then replied with a goal at the other end. A point a piece from each team tied up the scoreline at 4 – 1 to 2 - 7 at half time.
Throughout the second half the pendulum swung back and forth; finally resting in Kilmeena's favour at the big whistle. 
It all re-started with Mayo Gaels (now playing into the wind), posting a goal and a point. Kilmeena responded with 4 points from play. Back came the Gaels again with another goal and a point, giving them a 4 point advantage going into the final 5 minutes. A couple of positional changes, coupled with great player determination (a little verbal encouragement from the sideline…….!!) and a will to win, produced a blistering finish from Kilmeena; yielding 2 goals -by Kian Moore – and 3 points (including two great efforts by Chris McGlynn) to swing the contest in Kilmeena's favour.
Results of the other games in Division 1B means that Kilmeena will just miss out on a semi-final spot.
However, this was as good a finish as we could have asked for.
Well done to all the lads – who can now look forward to the championship
Match report; Michael O'Grady
Kilmeena      6   -   8         4   –   10      Mayo Gaels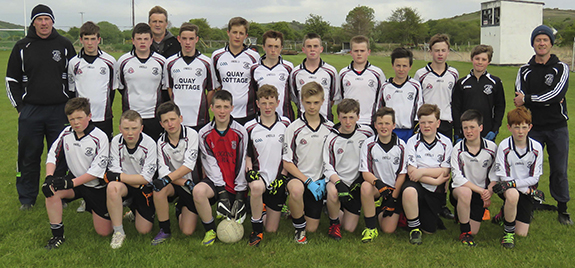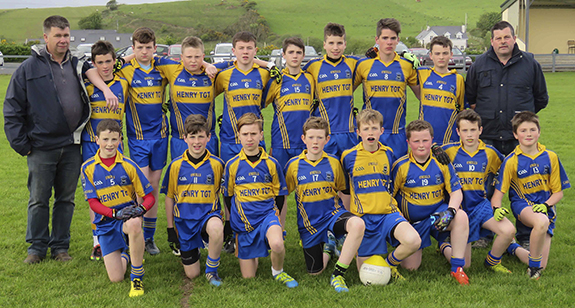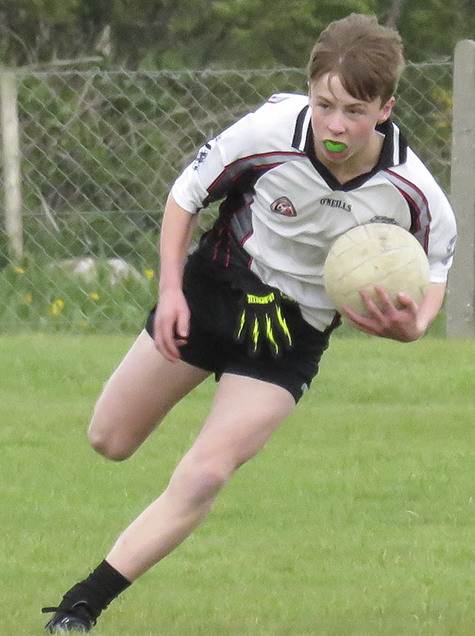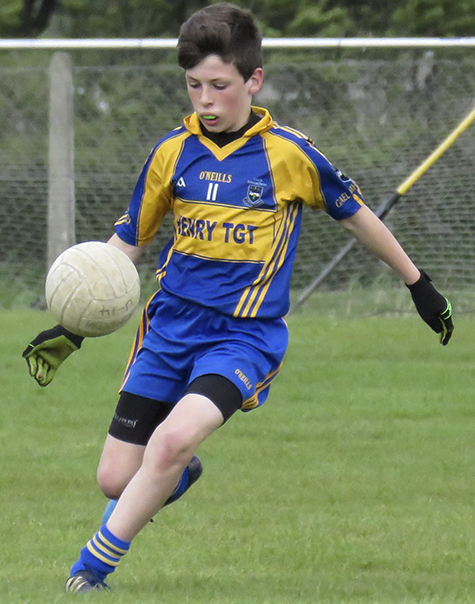 more...
https://picasaweb.google.com/116414218992329230135/6287050743883566769#6287050744501998146
(Images courtesy of Colm Barrett)