Kilmeena U-12 boys played their first game of 2016 at home to Balla on Monday evening the 9th May. This was the first round of the U-12 league. Balla travelled with a panel of 20 players while Kilmeena had 33 togged out for this encounter. Kilmeena were captained by Lorcan Coady who kept control of defence. Kilmeena played 26 different players with rolling substitutions over the 4 quarters. The weather conditions were good this evening for underage football with a gentle warm breeze blowing down the fields. The Kilmeena boys put in a sterling performance where the defence resisted constant pressure from the Balla attack with notable tight marking from Jack & Gavin Mulchrone, Lorcan Coady & Rian Kilcoyne. Harry Sherdian pulled off some magnificent saves to keep Kilmeena in the match at critical times. The midfield positions were highly contested with Balla having the height advantage. However, this didn't deter the Kilmeena lads who held their own in the critical area of the field. Finley Gibbons did all that was asked of him and was worthy contender for man of the match. He recorded Kilmeena's first score of the evening. Upfront there was a constant treat from the Kilmeena sharpshooters with some well taken points from Liam Moore, Conal Gill, Colin Hastings and super sub Conor Feehan. However it was the goals scored by Conal Gill (2), Daniel Kelly (2) Colin Hastings and Ciaran Kilcoyne that made the real difference. This evening saw Jack Jennings wear the Kilmeena Jersey for the first time. He didn't let the occasion get to him and he put in a top class performance.
Well done to Balla for a good sporting game.
The Kilmeena panel that were present this evening were;
Lorcan Coady Capt., Brian Durkan, Conor Feehan, Cormac Feehan, Conal Gill, Sean Gallagher, Conor Gibbons, Finley Gibbons, Colin Hastings, Donal Hastings, Matthew Hogan, Daniel Kelly, Conor Kelly, Lucas Kennedy, Ciarán Kilcoyne, Rían Kilcoyne, Cormac Lyons, Liam Moore, Brian Mulchrone, Gavin Mulchrone, Jack Mulchrone, Louis O Donnell, Evan O Donnell, Jack O Grady, Stephen O Grady, Joseph O Malley, Darragh Slattery, Dylan Staunton, Odhran Tieran, Harry Sherdian, Keelan Corcoran, Jack Jennings, Peadar O Toole.
Match Report by Ollie Mulchrone.
Kilmeena     6   -   12      3   -   08      Balla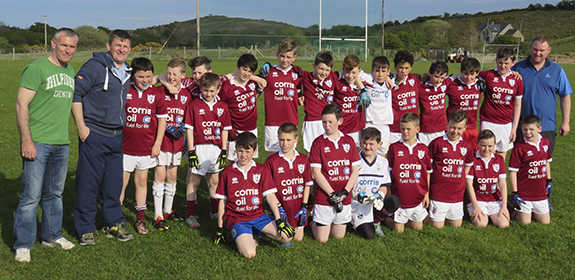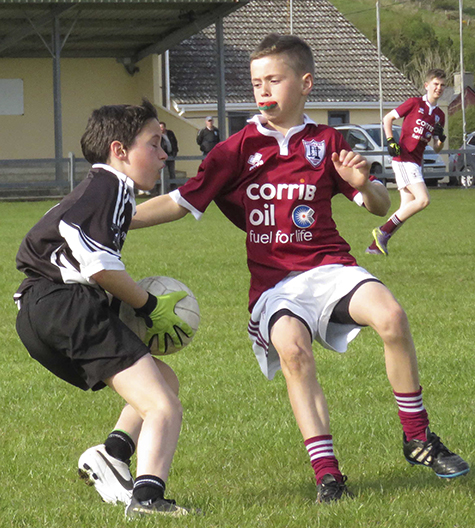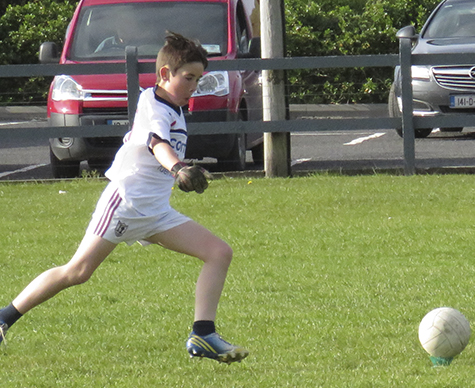 more...
https://picasaweb.google.com/116414218992329230135/6283544827594561985#6283544840754651522
(Images courtesy of Colm Barrett)