Kilmeena U-12 boys played their third game of the league at home to Moy Davitts on Monday evening the 23rd of May. Moy Davitts travelled with a panel of 22 players which allowed for two teams to be selected. The first game was played with 13 aside on the main pitch while the second game was played in the adjoining training pitch. Kilmeena got off to the better start by winning the first quarter by 1  -  02 to 1  -  00. However, Moy Davitts hit their purple patch in the second quarter and scored 2  -  02 to 0  -  01 leaving the half time score of 1  -  03 to 3  -  02 in favour of the visitors. The Kilmeena boys had lots of possession in the third quarter but failed to convert their dominance into scores on the board. They did manage to score 1  -  03 to 2  -  01 but this left them with too much to do in the final quarter. At full time the score line read Kilmeena 2  -  07 to Moy Davitts 6  -  04. Liam Moore was outstanding in defence with twice as many turnover of possession (14) than anyone else on the field.
Scores in Game 1 came from Ciaran Kilcoyne (2) Conal Gill (1) Liam Moore (1), Daniel Kelly (G) Finley Gibbons (1) and Colin Hastings (2).
Game 2          Kilmeena 6-17                   Moy Davitts 2-04
Game 2 got off to a blistering start for Kilmeena where they scored 3  -  09 to 0  -  00 in the first half. It was the tight marking and great support play by the Kilmeena lads that kept Moy Davitts scoreless in the first half.  Moy Davitts improved their game in the second half and registered 2  -  04 to Kilmeena's 3  -  08. The score line at the end of game 2 read Kilmeena 6  -  17 to Moy Davitts 2  -  04.
The Kilmeena scores came from Jason Monaghan (G 2), Lorcan Coady (4 points), Jack Jennings (G), Stephen O Grady & Matthew Hogan (2 points each), Sean Gallagher, Cormac Feehan, Lucas Kennedy, Conor Kelly & Keelan Corcoran (1 point each) while the top scorer of the evening was Conor Feehan with a massive personal tally of 4 Goals and 1 point.
Good performances were also noted from Dylan Staunton, Louis O Donnell, Conor Gibbons, Joseph O Malley, Donal Hastings, Odhran Kilcoyne and Rian Kilcoyne.
Well done to Moy Davitts for two good sporting games and thanks to those who came along to support.
Next game is away to Kiltmagh on Monday evening the 30th May.
Training takes place Thursday evening 7:00 to 8:00.
Match Report by Ollie Mulchrone.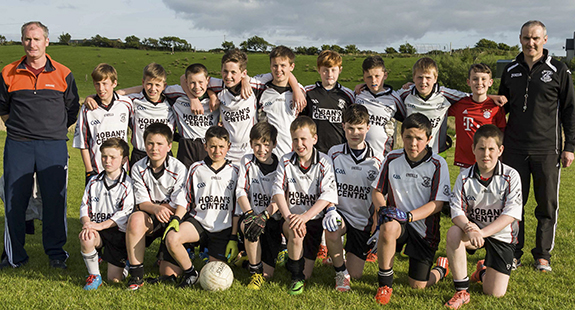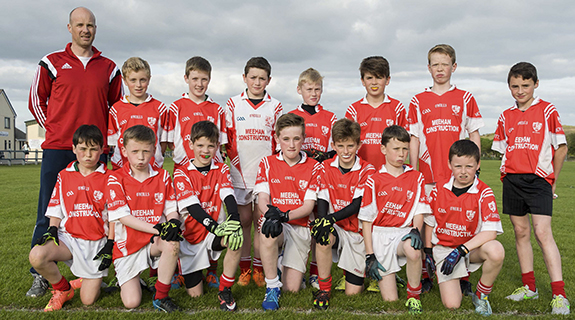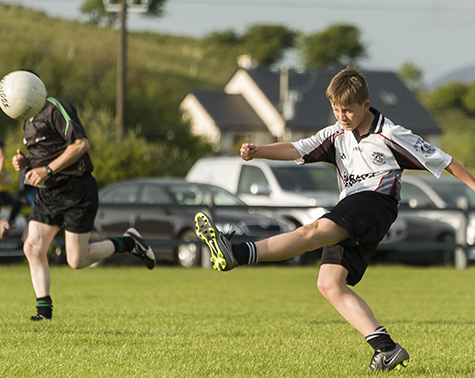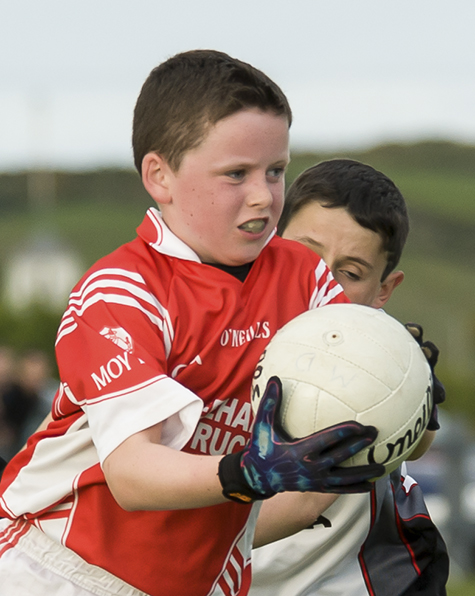 more...
https://picasaweb.google.com/116414218992329230135/6288127888623575601#6288127993549951954