Massive Congratulations to the Kilmeena U-12 boys who won Division 2 of the County summer league this evening by beating Knockmore in the final round. This victory ensured Kilmeena maintained their unbeaten record in this competition. Kilmeena travelled with a panel of 27 lads which all got game time. Two teams were selected and both games were played in parallel on a beautiful warm evening in the impressive Knockmore grounds.
The two Captains were Adam O Grady and Conor Kelly who both played leading roles on their respective teams. Conor's team put in a fine performance with both sides tied at the end of full time on a score line of 4 - 09 to 6 - 03. The goals were scored by Stephen O Grady, Conor Feehan, Conor Kelly and Odhran Tieran.
 Adam O Grady's team played with slight wind advantage in the first quarter. However, the lads found it hard to get going and only for the efforts and scores of Colin Hastings they managed to keep it level scoring 0 - 03 to 1 - 00 at the end of the first quarter. Knockmore started the second quarter in blistering pace capitalising on some slopping marking in the Kilmeena defence outscoring Kilmeena by 4 - 04 to 2 - 02. The Kilmeena scores this time coming from Darragh Slattery (1-01), Jack Mulchrone (G) and Colin Hastings (1). The half time score read 2 - 05 to 5 - 04 giving Knockmore an eight point advantage.
At half time the Kilmeena lads were reminded again that the league title was at stake and references were made to the heroics of the Kilmeena U-14 team last Thursday evening where they turned around a much bigger margin. Some positional changes were made moving Jack Mulchrone into the forwards and bringing in the two resilient defenders, Donal Hastings and Rian Kilcoyne who both helped considerably in turning this game around. Rian back from his travels gave a wonderful display on how to defend with tight marking and great reading of the game. The defence now working as a solid unit kept Knockmore scoreless in the third quarter while the Kilmeena forwards started to play with scores coming from Evan O Donnell (2), Jack Mulchrone (3), Colin Hastings (1-02) and F Gibbons (1). It was unfortunate Finley Gibbons had to be substituted at the start of the second half after picking up a hand injury. Going into the final quarter the score line read 3 - 13 to 5 - 04, a 3 point advantage to Kilmeena.
With only the kick of a ball between them and with Knockmore having wind advantage the Kilmeena boys knew they had to give it their all to get the result and that is exactly what they did by outscoring Knockmore 3 - 05 to 2 - 01 in the fourth quarter leaving the final score line reading 6 - 18 to 7 - 05 in Kilmeena's favour. Kilmeena's scores in the final quarter came from Liam Moore (3), Colin Hastings (1-01), Jack Mulchrone (2-00) and Evan O Donnell (1).
Special mention must go to Colin Hastings with a man of the match performance. Colin touched every blade of grass on the Knockmore pitch this evening and encouraged his teammates at every opportunity scoring in each quarter with a massive personal tally of 2 - 07. Darragh Slattery excelled in the second half leading the way at midfield while Jack Mulchrone can be very satisfied with his hat-trick of goals and points.
The Kilmeena panel that were present this evening was;
 Lorcan Coady, Brian Durkan, Conor Feehan, Cormac Feehan, Sean Gallagher, Conor Gibbons, Finley Gibbons, Colin Hastings, Donal Hastings, Charlie Hughes, Conor Kelly, Rían Kilcoyne, Liam Moore, Brian Mulchrone, Gavin Mulchrone, Jack Mulchrone, Cian O Brien, Evan O Donnell, Adam O Grady, Jack O Grady, Stephen O Grady, Joseph O Malley, Darragh Slattery, Dylan Staunton, Odhran Tieran, Harry Sherdian and Keelan Corcoran.
Well done to Knockmore for two good sporting games and thanks to all the Kilmeena support that travelled to the game.
Match report; Ollie Mulchrone.
Kilmeena     6   -   18       7   -   05     Knockmore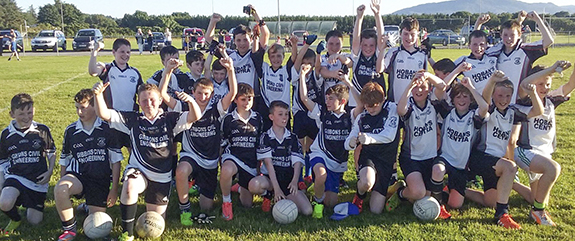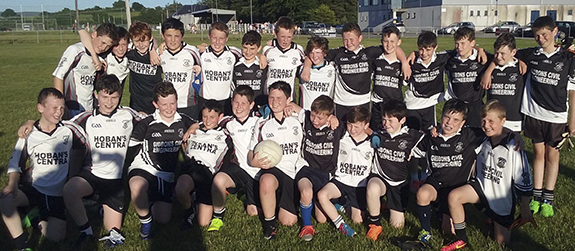 (Images courtesy of Ollie Mulchrone)