Kilmeena and Westport contested the U-13 Division 1 County Championship on Saturday morning the 14th October in Mulvey Park Castlebar.
The opening score of the game came in the third minute where Kilmeena's Darragh Slattery pointed from a 45. Westport responded 2 minutes later when Finbar McLoughlin's shot on goal was pushed over the bar by the acrobatic save of the Kilmeena keeper Evan O Donnell. Colin Hastings the dynamic wing back for Kilmeena scored a great point from open play in the seventh minute. Two minutes later the Westport full forward Declan Horgan equalised from a close in free followed by another free from the wing forward Danny Brennan. It was nip and tuck all the way when Kilmeena equalised again mid way through the first half with a point from play by their midfielder Darragh Slattery. Westport were putting fierce pressure on the Kilmeena backs and got their just reward when their centre half forward scored the first goal of the game in the twentieth minute. Kilmeena responded with another point from Darragh Slattery leaving the half time score Kilmeena 0 - 04 to Westport 1 - 03.
The second half saw Westport rally with 5 unanswered points in the opening 15 minutes and in truth this is where the game was won and lost. Finbar McLoughlin got the opening score of the second half followed by two points each from Conal Dawson and Danny Brennan. Kilmeena now trailing by seven points never gave up and Finley Gibbons scored their first score of the second half with a fisted effort from a high ball. This was followed up with a converted free by Darragh Slattery reducing the margin to three points with 10 minutes to go.
Minutes later Declan Horgan got Westport's second goal followed up with a point from play. Kilmeena dug deep to gather possession and get the ball down the field where Finley Gibbons scored his second goal for Kilmeena which was the last score of the game.
Unfortunately for the Kilmeena lads this was not the result we had hoped for. However, when one reflects on the year as a whole for this group of lads it has been hugely successful. The experience of competing in the top tier football will stand to these guys in the future. The individual improvement observed with these lads throughout the year has been a joy to watch. No doubt they will be back for more success in the years ahead.
Thanks to the very large crowd of Kilmeena supports who travelled to the game. A special thanks to our club photographer Martin McIntyre.
Congratulations to Westport on their victory and thanks for a sporting game.
Kilmeena Team:
Evan O Donnell, Rian Kilcoyne, Cormac Lyons, Donal Hastings, Colin Hastings, Harry Sherdian (Capt.) Jack Mulchrone, Darragh Slattery, Daniel Kelly, Brian Durkan, Liam Moore, Ciaran Kilcoyne, Conor Kelly, Conal Gill, Gavin Mulchrone.
Subs used; Finley Gibbons, Conor Feehan, Jack O'Grady, Adam O'Grady and Dylan Staunton.
Management; Michael Gavin, Mike Slattery, and Ollie Mulchrone.
Match report; Ollie Mulchrone.

Kilmeena 2 - 05 2 - 10 Westport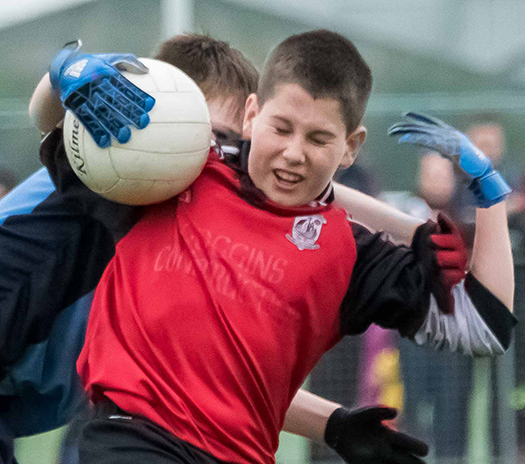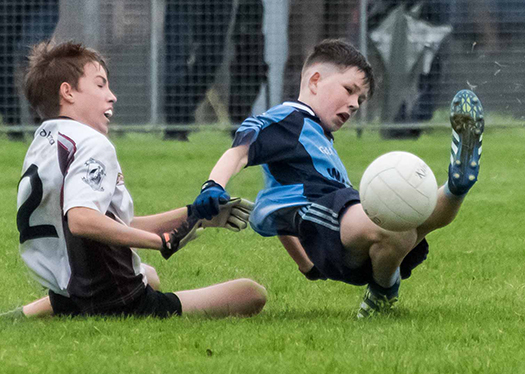 more...
Kilmeena V Westport U13 Boys A County C/Ship Final 2017-10-14

Kilmeena U13 boys played Moy Davitts at 11:00 on Saturday morning the 7th October in the County semi-final of Division 1. Due to a clear run in the qualifiers Kilmeena got home advantage with the game played in St. Brendan's Park. Moy Davits with the aid of a strong Westerly breeze got the opening score from a well taken free from their impressive full forward. The Foxford lads were on top for the opening ten minutes. Once the Kilmeena defence settled and got to the pace of the game the Kilmeena forwards started to penetrate the Moy Davitts defence with a well taken point from play by the influential midfielder Daniel Kelly and a superb score from the alethic wing back Colin Hastings where having turned over possession in front of his own goal performed a series of interchanging passes before kicking the ball over the Moy Davitts crossbar with his left foot. Darragh Slattery was on form from placed balls converting well taken frees while the inside forwards of Conor Kelly and Gavin Mulchrone showed well for the ball.
The game ebbed and flowed with excellent display of skill from both sides. Moy Davitts held onto their lead going into the break with a one point advantage 1 - 03 to 0 - 5 at the small whistle. Indeed their lead could have been a lot more but for the heroic saves of the Kilmeena Goal keeper Evan O Donnell and tight marking of the Kilmeena full back line of Cormac Lyons, Donal Hastings and most notably Rian Kilcoyne who put in a man of the match performance. The kilmeena half backs of Colin Hastings, Harry Sherdian and Jack Mulchrone held solid against the constant treat from the Moy Davitts forwards.
The second half saw Kilmeena take advantage of the breeze with the wing forwards of Ciaran Kilcoyne and Brian Durkan taking possession from several of the Kilmeena kickouts. Direct ball into the hard working substitute Finley Gibbons who unselfishly lay off well timed passes to the oncoming forwards resulted in great scores from the inspiring duo of Conal Gill and Liam Moore while the corner back Donal Hastings also chipped in with a well taken point late on in the second half. Darragh Slattery stepped up again scoring points from a placed ball and from play.
All in all this was a wonderful game of football played in difficult soft underfoot conditions. Great credits most go to both sets of players and management for putting on such an entertaining game. Thanks to Moy Davitts for a very sporting game and to their management for the kind words and good luck wishes for the mouth-watering County Final against our neighbours Westport.

Kilmeena Team:
Evan O Donnell, Rian Kilcoyne, Cormac Lyons, Donal Hastings(0 - 1), Colin Hastings (0 - 1), Harry Sherdian (Capt.) Jack Mulchrone, Darragh Slattery 0 - 4, (3 frees), Daniel Kelly(0 - 1), Brian Durkan, Liam Moore(2 - 02), Ciaran Kilcoyne, Conor Kelly, Conal Gill(G), Gavin Mulchrone.
Subs used; Finley Gibbons for Gavin Mulchrone, Conor Feehan for Conor Kelly, Jack O Grady for Finley Gibbons.

The County Final will be played in Mulvey Park, Castlebar (pitch at the back of McHale Park) next Saturday the 14th October at 11:00.
Please come out and support these wonderful young lads.
Final Score: Kilmeena 3 - 9 1 - 8 Moy Davitts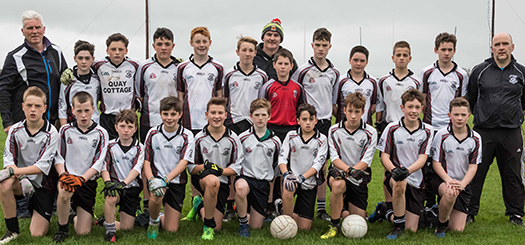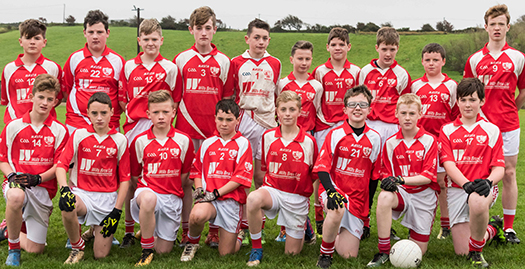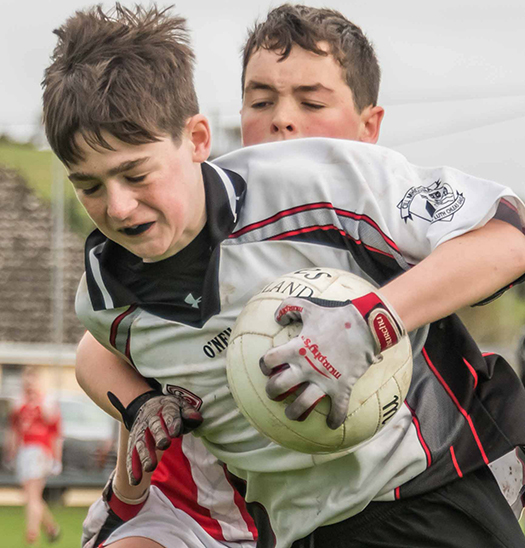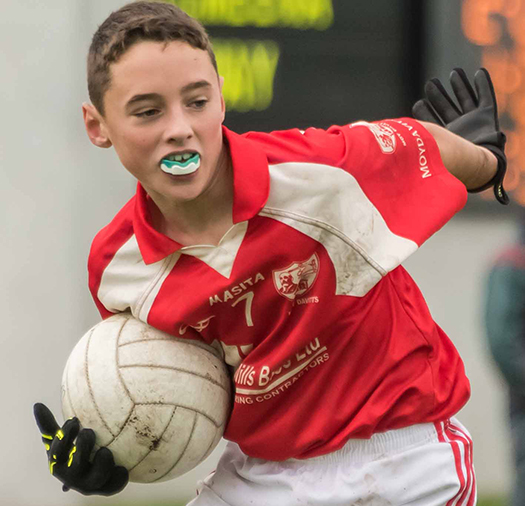 more...
The Under 13 boys played their 2nd game in Division 1A against Castlebar at home on Monday evening. We started timidly and were absorbing a lot of pressure from a strong Castlebar A side. Indeed except for some heroic defensive and goalkeeping work the game could have been beyond us by half time. Having played into the breeze, Kilmeena trailed on a scoreline of 6 points to 2.
We regrouped at the break and the realisation and confidence grew that the game was there for the taking in the second half. Our midfield and forwards got on much more of the ball. As confidence grew our players were winning more of their man to man battles. A fortunate break when a forty five dropped into the Castlebar net gave us the impetus to push on and win a thrilling game on a Final score of 2-10 to 1-11.
Special mention to the supporters who came out to shout on the Team from the stand, their encouragement undoubtedly helped secure a victory that shows what is possible for this group!
Match report: Mike Slattery.

Kilmeena 2 - 10 1 - 11 Castlebar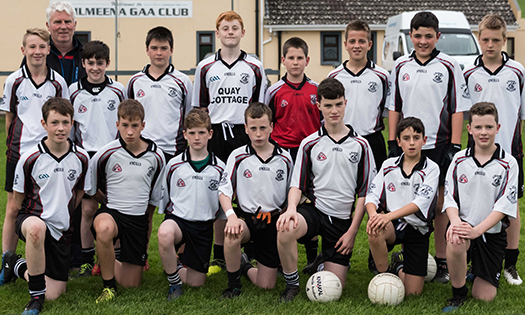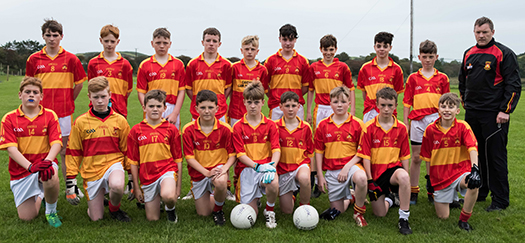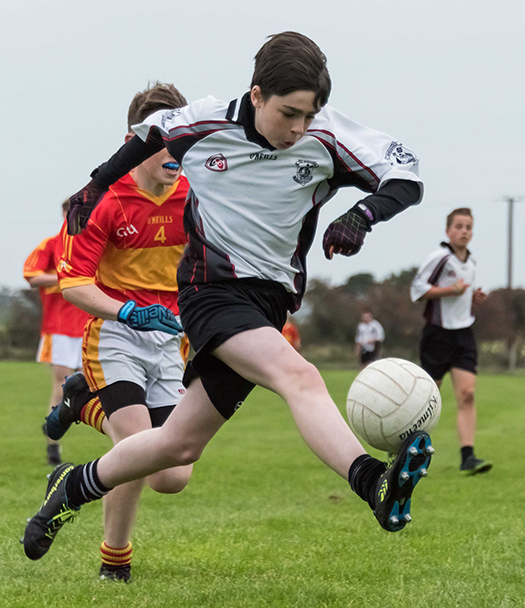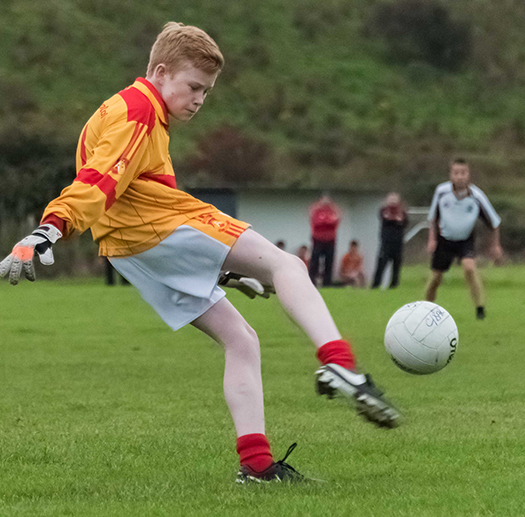 more...
Our 13B team travelled to Parke to play them in Division 4B. This was the first game of the season together for this group. From the off, we were under big pressure from a strong Parke side. At half time we were trailing 6 - 8 to 0 - 1. A number of changes were tried for the second half and we put in a stronger performance but still ended the game on the losing side of a scoreline of 9 - 10 to 1 - 4.
While we took a heavy defeat on the scoreboard, we are still certain that this team will develop as the competition progresses. All players are benefiting and enjoying lots of game-time based on playing two Kilmeena teams at U13.
Match report ; Mike Slattery.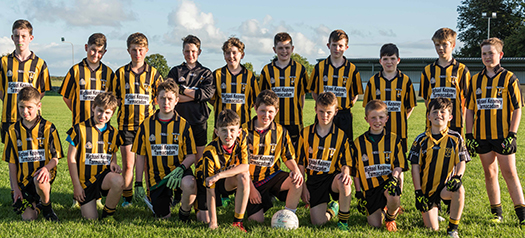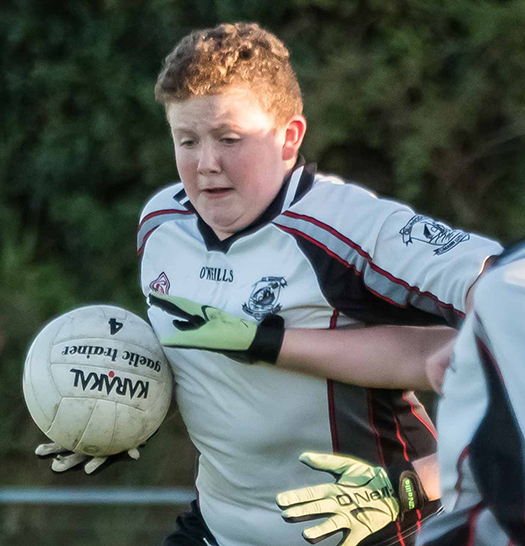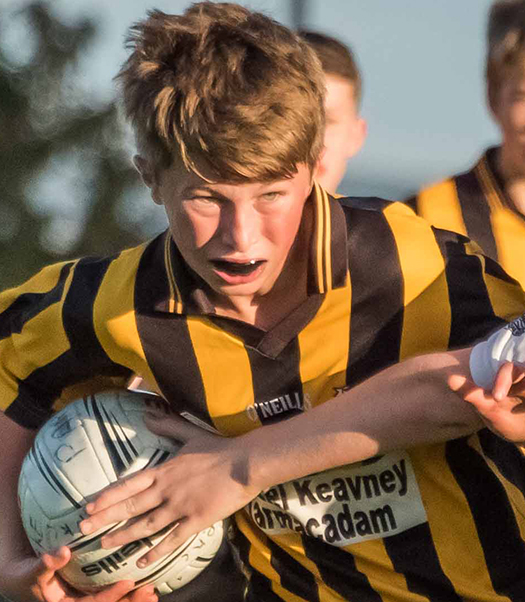 more...
We had our first U13 boys game in Division 1A against Ballintubber away on Monday evening. We travelled with a strong panel of 19 players. Kilmeena started well but Ballintubber replied with a number of good points with the teams level with 15 minutes gone. Kilmeena kicked on again to lead at half time by three points. A few changes in positions and the benefit of a slight breeze meant we pulled away well in the second half. Bringing on all our subs in the second half helped us keep up the momentum winning by a considerable margin at the final whistle.
Our next game is at home Monday against Castlebar.
Match report; Mike Slattery.
Kilmeena 5 - 10 1 - 6 Ballintubber