We are fortunate in Kilmeena, to have had in our midst, people with an unwavering passion and dedication to the G.A.A. through the fifties and sixties down to the present day, thus ensuring the survival of the Kilmeena Club at a time when its very existence was threatened due to the curse of emigration in the late 50's, which was endemic, particularly of rural Ireland of the fifties. It deprived the Club of its playing population. It was this lack of available talent that led to the relapse in club activities towards the end of the 50's.
The decline in club functions was reversed in 1963 under the Chairmanship of Paddy O'Grady and others, on his return from London, where he had spent the previous number of years. The courage and commitment of this cohort of people, whose vision and foresight is reflected in the fine facilities and playing grounds available to today's playing population, facilitating both boys and girls.
The Club acknowledges today the sterling service of those loyal servants and their commitment rendered unselfishly over the years.

Mick Burke, Pat Carney, Tommy Casey, Hugh Feehan, Pete Feehan, John Garavan, Liam Garavan, John Geraghty, Sean Geraghty, Jim Goggins, P. J. Goggins, Stephen Goggins, Eddie Higgins, Jackie Higgins, Joe Higgins, Christy Hopkins, Dermot Joyce, Sean Joyce, Bertie Keeney, John Lawless, Joe Madden, Petie Joe Mc Donnell, Johnny McNamee, Willie McNamee, Jim Moran, John Moran, Michael Moran, P.J. Mulroy, Tony Mulroy,  Johnny Nolan, Brendan O'Donnell, Paddy O'Grady, Josie O'Malley, Tommy O'Malley, John Ryan, Tony Walshe, Patsy Staunton.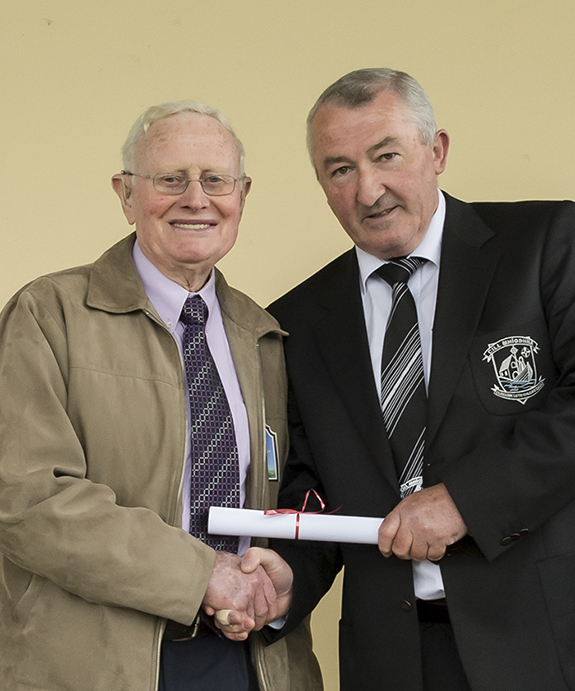 Paddy O'Grady, instrumental in the Club's revival and Chairman in 1963, receiving his commendation from Club President, Tom Ryan.
more...
https://picasaweb.google.com/116414218992329230135/AccoladesForTheMenOfThe50S60S#6012941380900779010