Rice rejoice at three-in-a-row
By: Michael Gallagher in Josie Munnelly Park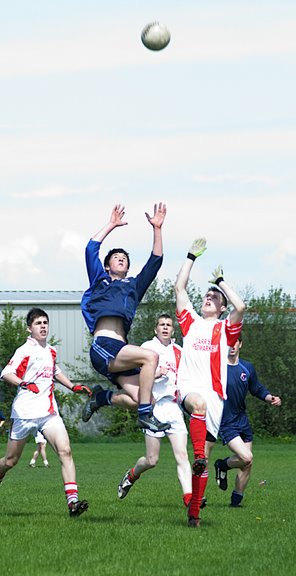 Mayo Colleges Colleran Cup final
Rice College, Westport 5-8 St Muredach's, Ballina 2-7

EVEN the most accomplished analyst would have difficulty making sense of this encounter. Five points down after eight minutes and being played off the park, it was hard to envisage Rice College retaining the Colleran Cup, but retain it they did courtesy of a 10 point winning margin.
The Westport boys were superb in the final 50 minutes and pounced on scoring opportunities like a ravenous leopard but they were nowhere to be seen in the opening moments.
St Muredach's looked like world-beaters during those first exchanges and with Padraig Collins outstanding at corner-forward they moved into a strong lead. Shane Conway then rearranged the Rice College troops and they came back with such vigour that they were five points in front at the interval.
The third quarter was evenly contested but a savage surge from the West-Mayo boys in the closing 15 minutes secured their third Colleran Cup title in succession.
The challengers from Ballina opened proceedings in very impressive fashion. David Twomey was prominent at wing-back while Padraig Collins took every opportunity that came his way. The Ballina ace kicked the opening point in the 38th second, followed it up with a 50-yard free and then rattled the net when he got on the end of a Cillian Foody pass.
Darren Hoban got Rice off the mark in the 10th minute but Muredach's were buzzing and a flowing move involving Twomey, Clive Judge and Sean McGarry ended with Collins landing a point from 55-yards to restore the five-point advantage.
The defending champions were in trouble but when Patrick Keane took up marking duty on Collins and their central figures began to strut their stuff, the Westport students soon found their feet.
The boost they required arrived just at the end of the first quarter when Joe O'Malley won possession; Shane Geraghty sent a high ball into the square and Colm Higgins blasted home his side's opening goal.
That score ignited the boys in blue and points from the impressive Higgins and the inspirational John Sammon, allied to two smashing goals from the deadly Geraghty, only elicited a point from Darragh McCormack in reply. That left the Westport boys 3-3 to 1-4 clear at the interval and with second half wind advantage to come, all the smart money was on Rice College.
Mure d a c h ' s needed a goal badly and almost got it four minutes into the new half when Collins was adjudged to have been fouled, but Darragh McCormack's penalty went inches over the crossbar. Their urgently required major soon arrived however, as a high delivery from McCormack caused panic in the Westport goamouth and Patrick Munnelly was on hand to rattle the ball to the net. That left just two between the sides and Muredach's almost hit the front in the 41st minute only for Shane Collins to save well from his clansman Padraig Collins, but that was as good as it got for the Ballina boys. 
The Rice defenders were beginning to smother the life out of Muredach's and with Brian Fleming, Fearghal Hughes and Liam Staunton augmenting their colleagues, the tide was definitely running in favour of the champions.
Colm Higgins was highly impressive at centre-forward for the Westport students and he contributed two mighty points before Shane Geraghty also dissected the posts to leave five between the sides once again.
Then, with eight minutes left, a Higgins free was flicked to the net by Darren Hoban and when Oisin Sweeney smashed home another three-pointer in the 54th, the dye was cast.
All Muredach's could muster in reply were two Padraig Collins pointed frees before Colm Geraghty brought matters to a close with the final point of the day to leave his side 10 clear when the final whistle sounded. SCORERS - Rice: Colm Higgins 1-4 (0-2f), Shane Geraghty 2-1, Darren Hoban 1-1, Oisin Sweeney 1-0, John Sammon and Colm Geraghty 0-1 each. Muredach's: Padraig Collins 1-5 (0-3f), Patrick Munnelly 1-0, Darragh McCormack 0-2 (1p).
RICE: Shane Collins; James Walsh, Liam Kitterick, Darren Browne; Patrick Keane, Brian Fleming, Nathan Lally; John Sammon, Fearghal Hughes; Liam Staunton, Colm Higgins, Shane Geraghty; Darren Hoban, Oisin Sweeney, Joe O'Malley. Subs: Colm Geraghty (for O'Malley 54), Gearoid Hughes (for Sweeney
55), Jonathan Doyle (for Hoban
56), Michael McDonnell (for Staunton 57) ST MUREDACH'S: Mark Duffy; Keith Tighe, Kieran Twomey, Cathal Birrane; David Twomey, Barry Higgins, Gerard O'Donnell; Clive Judge, Sean McGarry; Eanna Mulchrone, Cillian Foody, Ronan Neary; Padraig Collins, Keith Ruttledge, Darragh McCormack. Subs: Paul O'Grady (for Higgins h/t), Patrick Munnelly (for Neary
36), Conor Langan (for Foody 54), Philip Meade (for Mulchrone 55).
REFEREE: Jimmy Feeney (Castlebar)