The importance of availing of every scoring opportunity was once again underlined in Clonberne yesterday, as Mayo gifted Galway the Over 40's All-Ireland series title by the narrowest of margins.
Treacherous underfoot conditions, created by the continuous downpour during the match, failed to dampen the enthusiasm and competitive spirit of the contest which is reminiscent of the sporting history that has existed between those neighboring counties for decades.
The Kilmeena quartet of Declan, Darren, Kieran and Pat played their part with aplomb in this entertaining final. Alas, their efforts go unrewarded on this occasion.
Tyrone defeated Cavan in the Shield competition in the earlier match.
Compliments to Irish TV on the professional production of the event which was televised live on TG4.
Mayo     0  -  6        0  -  7    Galway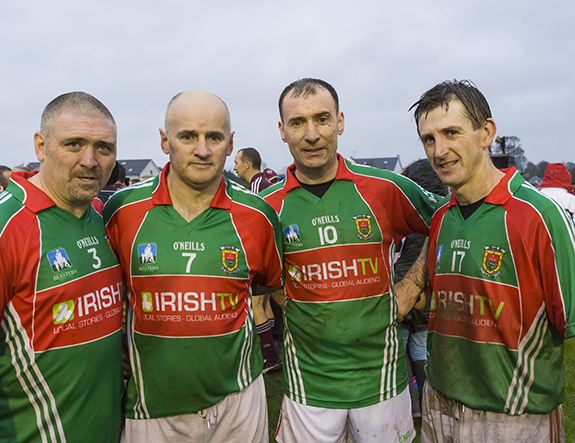 L - R: Declan, Pat, Darren and Kieran.
more... 
https://picasaweb.google.com/116414218992329230135/MayoMastersAllIrelandFinal2014#6077065212471589554