LINE UP:  County Champions – 1986, 1993 & Connacht Champions 2002
We're nearly there !!  It's Saturday night in the Castlecourt Hotel at 7.30 p.m.  Only the Hollywood Oscars can compare to the Kilmeena G.A.A.  Role of Honour for the County Champions  1986, 1993 and the Connacht Champions of 2002. Delighted to inform you that Mr. Michael Kirk, Joint Manager with George Golden in 1993 will travel from Cork for the occasion. A moment of pride for our "Kilmeena  lads" who have emigrated because your parents and siblings will be there to accept your presentation from  Joint  Mayo Manager, Mr. Pat Holmes. Mayo County Board Chairman, Mike Connelly, will present the Club's Annual Awards to the various recipients on the night.
There has also been a huge response from the community and it will be an event for reminiscence and for a reunion with teammates and friends. Just to refresh your memory a special selection of video clips have been compiled from 1990's to include underage and senior football matches and will be projected throughout the proceedings.  The show will also feature, local Xmas concerts, community events and other moments of interest from the past. Our very own " Reeling in the Years " will prompt many memories and certainly provide a lot of humorous teasing!!  Kilmeena G.A.A. Club have worked relentlessly throughout the last two months to ensure that the night will be enjoyable for all of you.
Tickets are still available from Paul Ryan ( Secretary ) 0872809524, Padraig Moore ( Treasurer ) 0872861190, Ollie Mulchrone 08728883710, Colm Barrett, 0860289777.
There will be no necessity for a gym session after D.J. Henry McGlade has completed his music session. Have also been informed that Mr. Joe Ryan of "Strictly Come Dancing" fame will commence the dancing for us on the night.  So advise the babysitters that they are on overtime as this entertainment is expected to continue long into the night!!
The Mayo Crystal Trophy has been specifically designed to remind the Champions, their Managers and Selectors, that your golden era will never be forgotten by Kilmeena G.A.A. The 125th Anniversary of the club is an extremely significant year for you to receive it.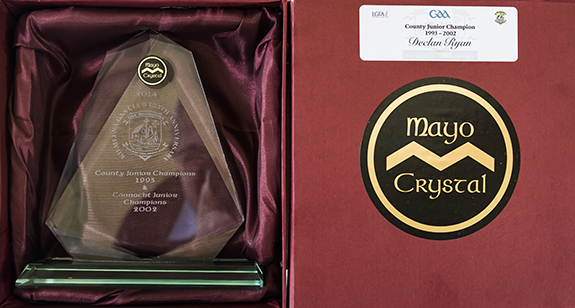 "A symbol of appreciation"

This is what Declan Ryan and his cohort will receive in honour of their achievements on the playing field