The salubrious surroundings of The Helm Bar and Restaurant provided the venue for the distributions of prizes to the winners in the recently held Kilmeena GAA Lotto draw.
Following on from the night of the draw held in the Clew Bay Hotel, where, to a capacity crowd, the roll of the barrel, packed with last minute ticket purchases, spewed out the eagerly awaited names of those favoured by the gods of luck.
The presentation of prizes to the winners in The Helm Bar, although a more subdued affair than the previous night, nonetheless, well-wishers were on hand to lend their support, as each winner received their lotto cheques from various member of the Kilmeena GAA Club. We wish them well on their spending spree!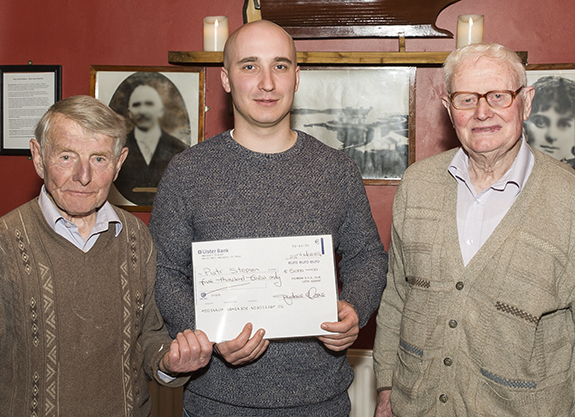 Piotr Stepien, winner of the top prize of €5000.00 in the Kilmeena GAA Lotto draw, accepting his cheque from Club stalwarts, John Moran and Paddy O'Grady
more...
https://picasaweb.google.com/116414218992329230135/KilmeenaGAALottoWinnersPresentationTheHelm#6267079409848690626