A most enjoyable presentation night for the victorious St.Brendans minor team took place on Saturday night the 30th November 2013 in Nevins of Tiernaur. This was the culmination of a teriffic year for this team, the amalgamation of Kilmeena and Burrishoole which resulted in them winning the West Mayo Minor B championship for the first time in many years for either club. Minor titles don't come around often, so this was a special occassion. It was made more special by the number of parents who turned out on the night, to support their children as they have done all year and this was heartening to see. The Chairmen of the two clubs Willie Keaveney and Gerry Mc Nulty were present and paid dues to all who were involved with the team, the team managers, John Brannen, Davy Feehan and Neil Ryan, the parents and everyone who helped out in any way, during the year.
After the medal presentation there were a number of awards presented, as follows.
The always "late Award",                                         Sean Tobin,
The "Most Dedicated to Training" award               Andrew Grealis and Sean Barrett.
"Best Tackle Award" (accidental of course)          Ciaran Keane.
Best player to "Get on with the Game" award      Niall Feehan,
"Joker in the Pack" award                                      Sean Navin,
"Special Merit" award                                             Padraic Moran.

At the end of the night, as we reflected on the year, there was a hint of sadness at the fact the amalgamation for these lads was finished. New friendships were formed during the year and the bond between the two clubs was certainly strenghtened. We will certainly be looking out for these young men in the future, and hopefully they will continue to progress with their respective clubs.
Willie Keaveney

St Brendan's - celebrate their West Mayo Minor B Championship success.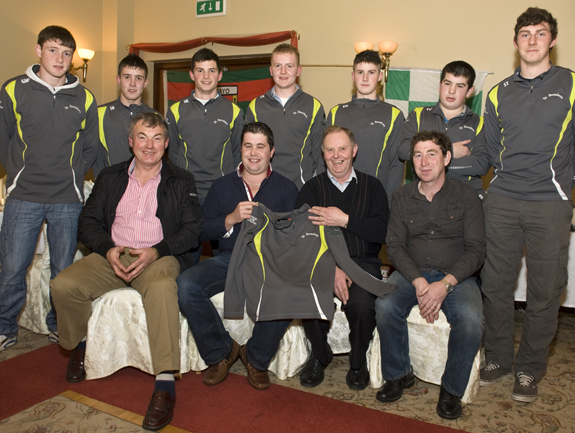 Willie Keaveney, chairman of Kilmeena GAA Club and Gerry McNulty, chairman of Burrishoole GAA Club with their Kit Sponsors,
William Halloran "The Big Tree" Bar Westport and Charles Keane, Kitchen Cabinet Manufacturer Newport.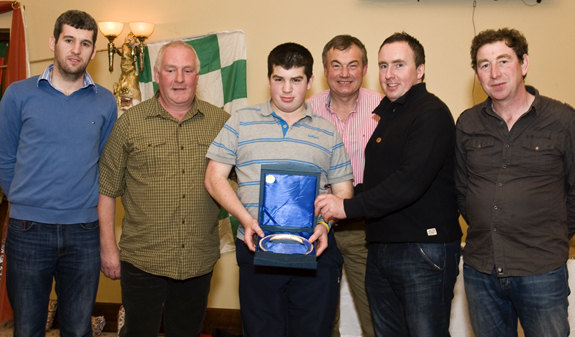 Padraic Moran receiving his Special Merit Award from Davy Feehan.
more....

https://picasaweb.google.com/116414218992329230135/StBrendanSWestMayoMinorChampionsCelebrations#5952216158175522562