Kilmeena U16's capture the Division 4 title following a superb performance of skillful, intelligent football against a well fancied Parke K.C. selection on a wet McHale Park yesterday evening. Congratulation must be extended to their managers, Mickey Carney, Neil O'Donnell and Rory Nevin for their guidance and management of the team.
Kilmeena    4  -  09         0   -  06   Parke Keelogues/Crimlin
Kilmeena goal kings capture the crown
Mayo U16 Division 4 League Final
Match report courtesy of Michael Gallagher of the Western People:

IT took them a long time to get going but when Kilmeena hit open road in the second half they accelerated to victory in front of their passionate and proud fans to secure the league title on Wednesday night.
Parke were game and gallant opponents and stayed with the Clew Bay boys all through the first half but when the dam burst early in the second half there was only going to be one winner.
Kilmeena were on the front foot from the throw-in with team captain Joseph Smyth driving forward, defenders John Ryan and Adam Heffron hoovering up Parke attacks and Chris Harper working hard around the middle.
Smyth put his team in front in the fourth minute but Kilmeena's habit of overplaying the ball out the pitch stymied their progress and Parke were soon in front.
Points arrived from Aaron McHale, Conor McDonnell and Jack Doocey before Jack McLoughlin drove through and was only denied a goal when Heffron got back to take his shot off the line.
That inspired Kilmeena and they drove up the pitch for Smyth to drill home a goal and he added two fine points to stretch the lead to 1-3 to 0-3 after 21 minutes.
The gap could have been greater but Aidan Walsh's goal bound effort was saved wonderfully by Kieran Doocey and Parke finished the half strongly with two fine points from Jack Doocey to close the gap to just one white flag, 0-5 to 1-3.
Indeed, the Black and Amber would have been in front going to the dressing room if Ciaran Costello hadn't produced a fabulous save to deny McLoughlin a netshaker just on the stroke of half-time.
 Kilmeena began the second half in determined fashion and in essence had the game won in the opening minutes. Keith Joyce and Ross Mullen pointed before Jack Carney sent the ball to the net when he got on the end of a quick free from John McGlynn to leave the Seasiders 2-5 to 0-5 clear.
To their credit, Parke never threw in the towel with Aaron Moran looking to drive them forward at every opportunity, but Kilmeena were excellent at the back with Robbie Harper and John Keane tackling tenaciously.
Walsh was working tirelessly in attack and when McGlynn streaked through to spear home a goal the large and vocal following from the edge of the ocean were starting the celebrations.
The leaders didn't allow the black card shown to talented attacker Philip Cawley to deter them from increasing their lead when McAllen pointed and Carney's intelligent and determined play saw him crash home his second goal of the evening.
That stretched the lead to 4 - 6 to 0 - 5 and although McLoughlin pulled back a point for the chasers there was to be no revival and Bailey Nevin converted a free, McGlynn kicked a beauty from the left wing and Joyce raised their ninth white flag to bring the curtain down on a famous evening for the parish where St Patrick rested before setting off to climb the Reek.

SCORERS - Kilmeena: Joseph Smyth 1-3 (0-2f), Jack Carney 2-0, John McGlynn 1-2, Keith Joyce 0-2, Bailey Nevin (f) and Ross Mullen 0-1 each.
Parke: Jack Doocey 0-3 (2f), Conor McDonnell, Aaron McHale and Jack McLoughlin 0-1 each.

KILMEENA: Ciaran Costello; John Ryan, Robbie Harper; John Keane, Adam Heffron, Ross Mullen; Chris Harper, Joseph Smyth; Bailey Nevin, Aidan Walsh, John McGlynn; Ethan Mulchrone, KeithJoyce. Subs: Jack Carney (for Nevin 21), Philip Cawley (for Mulchrone 4 4), Ethan Mulchrone (for Cawley 45 - black card), Bailey Nevin (for Mulchrone 53).

PARKE: Kieran Doocey; Pat Daly, Terence Ward; Colm McNicholas, Stephen Kerins, Conor McDonnell; Jack Doocey, Aaron Moran; Aaron McHale, Paul Loftus, Jack McLoughlin; Dara Kelly, Saran O'Callaghan. Subs: Jason Highe (for McNicholas 27), Colm McNicholas (for J Doocey 40), Daniel Brogan (for Loftus 42), Jack Doocey and Paul Loftus (for McHale and McLoughlin 57).

REF: Jarlath O'Connor (The Neale)

PLAYER OF THE MATCH:
John Ryan
(Kilmeena)

When inspiration was needed, Ryan provided it in abundance. Great hands, smart deliveries, power and pride made it a special night for this fine young footballer.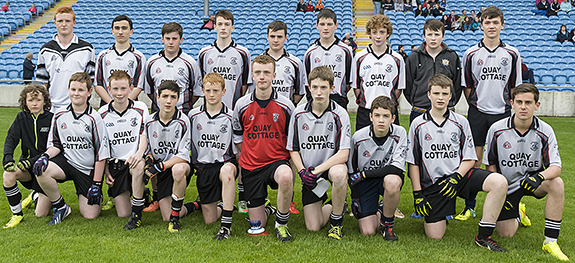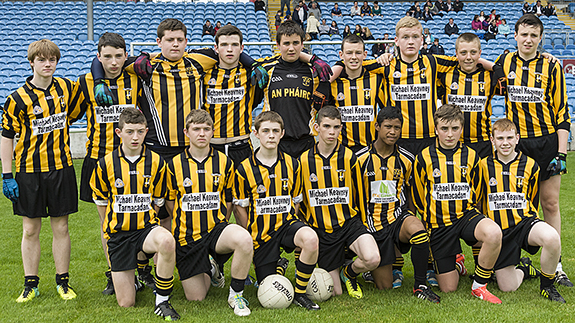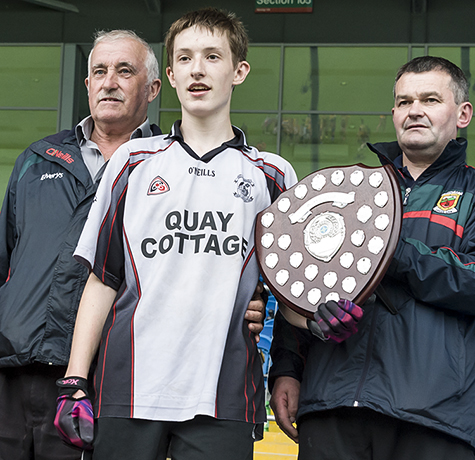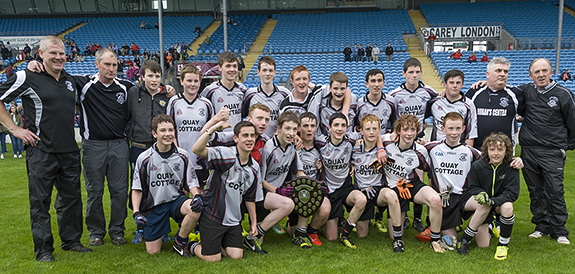 more....
 https://picasaweb.google.com/116953001544340296322/KilmeenaVParkeKCU16CountyLeagueFinal#6029200205201364914