The lads from Kilmeena made the trip north to Ballina to take on their Junior team in a game that could seal their promotion to Division 3
On a calm and almost balmy afternoon, the game started with both teams exchanging early scores. Kilmeena were very much on top but too much possession was being given up and opportunities missed. However, as the first quarter came to an end the Kilmeena boys got into the groove, and points started to sail over the bar as a succession of points opened up an 8 point gap. However, as the half came to a close Ballina went on a raid upfield from a kickout and a cross from the left ended up with the ball being fisted to the back of the net.
Half time Kilmeena 0 - 11, Ballina B 1 - 3
The second half started with Kilmeena coming under serious pressure, and a game that looked comfortable before half time, was now very much in the mix as the home lot tagged on two early points. Kilmeena pulled away and scored two points of their own to open up a 5 point gap again, and then a fine flowing move ended with Joey Smyth on hand to apply a cool finish to the net. A further point and Kilmeena were well ahead entering the final quarter.
With the addition of some seasoned campaigners to their ranks Ballina came roaring back. A well worked goal gave them some hope, but Kilmeena responded with a point straight away, but then in the next move they opened up our defence again to gain a penalty which was duly converted, and then another long ball resulted in another goal. The game at this stage going into the last few minutes was loose and open. Kilmeena responded with another point and Ballina came back for a score again.
In the end Kilmeena managed to keep enough composure to see the game out in what could have been game that may have seen defeat snatched from the jaws of victory. However, the two points were secured and more importantly what is now barring a strange sequence of results promotion to the next tier for next season.
The Kilmeena lads played some excellent football with some excellent moves ending in fine scores. Some of the build up play and running was excellent. However, some of our defensive work left a lot to be desired, but enough was done in the end to secure the much needed victory.
Best for Kilmeena were Darragh Keaveney, Niall Ryan, and Sean Ryder
Scorers D Keaveney 0 - 6, N Ryan 0 - 4, J Smyth 1 - 1, S Ryder 0 - 2, L Heanue 0 - 1, N Duffy 0 - 1, A Ryan 0 - 1, P Groden 0 - 1, J Reilly 0 - 1.
Kilmeena 1 - 18 4 - 6 Ballina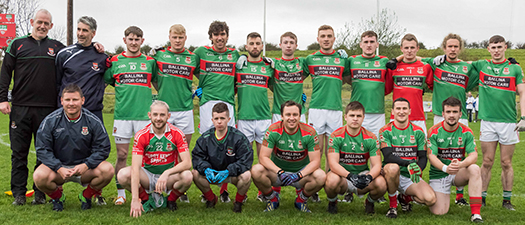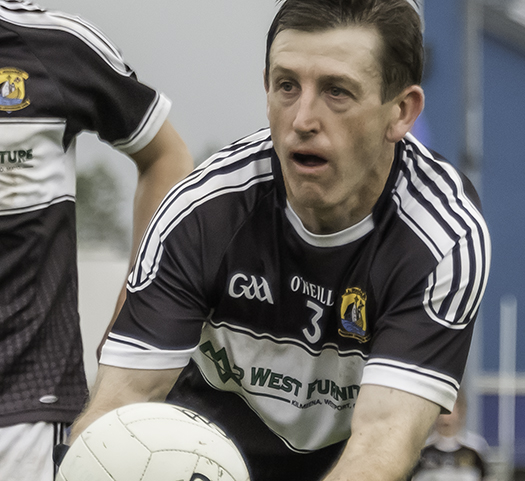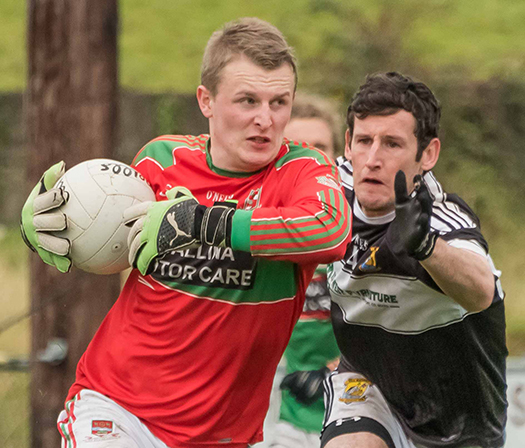 more...
Kilmeena 4 - 13 2 - 7 Knockmore B
Kilmeena and Knockmore met on Sunday in a vital top of the table clash. Again the game was played in stormy conditions, and after the toss, Kilmeena were faced with the prospect of playing into a strong wind.
The game started well for Kilmeena with the defence absorbing early knockmore pressure. then a lucky break from a Kilmeena defensive lapse presented Knockmore with an early goal which was followed by a white flag.
Kilmeena were finding it difficult to launch attacks, but after settling down, they enjoyed a very positive spell when we put the visitors under sustained pressure. Joey Smyth converted a penalty, Darragh Keaveney tapped over two fine frees, and Alan Ryan completed a fine finish after a good incisive move.
In this spell, the Kilmeena lads played some excellent football. the range of passing, support play and off loads were out of the top drawer. When in possession, the Knockmore men were hounded continuously and put under serious pressure.
The half ended with Knockmore using the breeze to their advantage and tagging on four points to leave the sides level at half time.
Kilmeena 2 - 2 Knockmore 1 - 5
The second half started with Knockmore exerting a more physical influence on the game. In the first few minutes it was evident that nothing was going to come easy with the breeze with both teams bedding down for what seemed like a war of attrition. Scores from Seanie Ryder and Alan Ryan settled things down, but Knockmore served a warning by coming back with a point. A couple of Darragh Keaveney frees put the margin out to 3, and then a high speculative ball into the small square from the visitors ended up in the back of the net. The scores were level, but then a quick raid downfield and an Alan Ryan point had us in front again. Now kilmeena were in no mood to let this one slip and another free from Darragh Keaveney eased the margin out to two. A quick thinking Nially Duffy free kick inside to Nially Ryan and the veteran made no mistake with his thunderous strike to the back of the neck.
Further scores from Seanie Ryder, Conor Madden, Chris Heanue and Nially Ryan stretched out the margin. A long raking run from Stephen Staunton ended with him finding the top corner of the net. Darragh Keaveney completed the day with another free, and at the final whistle, the result was a comprehensive victory for the men in black and white.
It is very difficult to single out men for special mention on a day when all 19 players used played a huge part in this victory. Andrew Grealis had a fine game in goals making a critical second half save and using his kickout to good effect. The full back line of Staunton, Hastings and Keane were steady throughout. The half back line were imperious with Madden, Feehan, and Heanue all having excellent individual displays. John Ryans link play in defence was excellent. The midfield duo of Sheridan and Duffy showed massive work rate, with Groden and Reilly coming in to pick up and add lots of energy to the sector. The half forward line of Nially Ryan, Seanie Ryder and Joey Smyth displayed excellent skill in tricky conditions and worked so hard off the ball. Keith Joyce and Seanie Barrett worked tirelessly when they came in. Up front Darragh Keaveney and Alan Ryan both led the line with telling effect and caused havoc with their constant movement.
Promotion for this squad is now within reach, and when the story of this season is written, it will be this performance which will demonstrate this team's passion, dedication and sheer will to win.
Kilmeena scorers: Darragh Keaveney 0 - 5(1f), Alan Ryan 1 - 2, Niall Ryan 1 - 1, Joey Smyth 1 - 1(1f), Stephen Staunton 1 - 0, Sean Ryder 0 - 2, Conor Madden 0 - 1, Chris Heanue 0 - 1