Junior Championship Quarter Final Replay
Kilmeena 1 - 8 1 - 13 Ballycastle
Kilmeena and Ballycastle locked horns again at Mchale Pk in this championship replay. Unfortunately this time, the Ballycastle men were to emerge as well deserved winners. Again the game was played with a strong wind, and Kilmeena kicked into it in the first half.
The game started with Kilmeena taking control and dominating possession. They were keeping the ball well, but there was no real penetration up front as Ballycastle defended deep. A lack of patience meant possession being turned over very quickly in a number of attacks and both teams exchanged the first two scores of the game. Kilmeena continued to control the ball, but Ballycastle eased ahead by 4 points with a couple of long distance scores and through free kicks conceded by Kilmeena ill discipline.
Then a couple of scores from Kilmeena brought the margin back to two with five minutes of the half remaining, and it looked like Kilmeena were controlling the game with the advantage of the elements of the second half to come. However, for the next 20 minutes either side of half time Kilmeena did not trouble the umpires flags while Ballycastle were to open up a 10 point gap.
The half ended with 3 Ballycastle points which left the score at Half time
Kilmeena 0 - 3, Ballycastle 0 - 8
Kilmeena needed to start the scond half strong, but within minutes after a defensive lapse Ballycastle scored a fisted goal. This lifted Ballycastle and had the opposite effect on the the Kilmeena lads. Like a boxer on the ropes they came under serious pressure as Ballycastle tagged on another two points. At this stage Ballycastle were fighting for every ball. On a Kilmeena raid on goal 3 Ballycastle payers ended up left on the floor throwing everything into blocks as they successfully cleared the ball.
Going into the final quarter Kilmeena stemmed the flow with a point, and then a speculative lob from Conor Madden ended up in the net. Two further points and Kilmeena were edging back into the game. Ballycastle managed to get upfield for a score, but Kilmeena came roaring back with two further points to leave only a goal in it. However, the comeback was stifled with two Ballycastle attacks ending in points to put the game beyond doubt.
There can be no argument about this defeat. We were beaten by a team who were prepared to throw themselves physically into the game and with more penetration in their attack. The game swung on small margins, but Ballycastle were deserved winners in the end, and it is they who march on to the county semi-final.
Best for Kilmeena: Paddy Keane and John Ryan.
Kilmeena scorers: Conor Madden 1 - 0, Darragh Keaveney 0 - 3 (2f), Stephen Staunton 0 - 1, Niall Ryan 0 - 1, Chris Heanue 0 - 1, Sean Ryder 0 - 1, John Reilly 0 - 1
Kilmeena travelled to Ballina for this quarter final championship encounter played in near gale force conditions. Playing against the wind in the first half, Kilmeena started brightly and were in control of the ball for long periods. Early scores for Niall Ryan and Joey Smyth had Kilmeena in front by a point coming to the end of the first quarter.
Then disaster struck. Two sloppy defensive mistakes gifted the opponents two goals and all of a sudden we were facing an uphill battle. However, not to be outdone, the boys in black and white dug in and despite coming under more Ballycastle pressure, the Kilmeena men held out. In spite of those two defensive lapses, the defense were playing very well, breaking up dangerous Ballycastle raids and then moving with the ball deep into Ballycastle territory. At half time the deficit was 6 points and we were hanging on.
Half time Kilmeena 0 - 3, Ballycastle 2 - 3
Starting off the second half we got a couple of good early scores from Keith Joyce and David Stenson after a superb lay-off from Alan Ryan. We were going really well and with a couple of frees we were clawing the lead back. Ballycastle made a couple of sorties upfield and got two scores to keep their noses in front. At this stage Kilmeena were finding scores hard to come by as a few missed attempts had ourselves under pressure.
Going into the final 10 minutes we were still two points in arrears. Alan Ryan reduced the margin to the minimum with a huge raking score and then Niall Feehan levelled it up. Right on the stroke of time Ballycastle squeezed over a point which looked all the way like the winner, but deep into injury time, a patient Kilmeena move ended with Darragh Keaveney getting on the end of the final pass, stepping inside and gliding the ball over the bar to set up a replay.
For long periods we dominated this game. The quality in this team really came through at times, and but for a bit more composure at both ends of the park, this would have been a much different result. The replay will be another game, and once again, the journey of what is proving to be a very successful season continues.
Best For Kilmeena were Niall Feehan, Niall Ryan and Darragh Keaveney
Scorers Darragh keaveney 0-4 (3f), Alan Ryan 0-2(1f), Keith Joyce 0-2, Niall Feehan 0-1, David Stenson 0-1, Niall Ryan 0-1, Joey Smyth 0-1
Match report; John Doherty.
Kilmeena 0 - 12 2 - 6 Ballycastle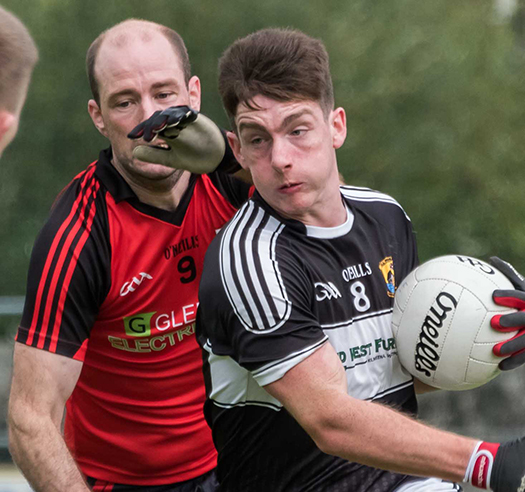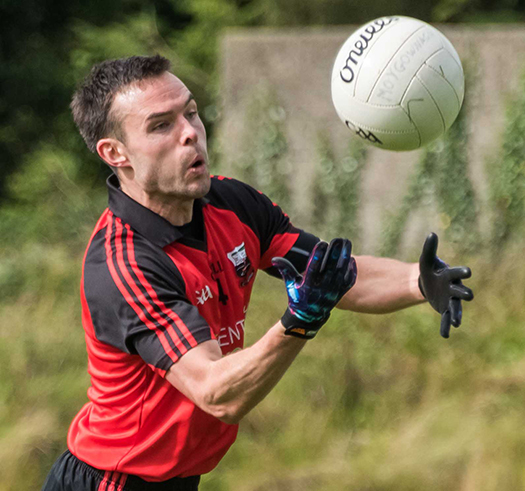 more...