Kilmeena ran out easy winners in what proved to be a fairly tame contest. We went into this game expecting a tough encounter from the men from North Mayo, but the expected battle never materialised.
In the early moments, Kilmeena were dominating possession but only had a Chris Heanue point to show after five minutes of sustained pressure. The next five were to prove much more productive with a point from John Ryan, and a goal from a Chris Heanue 45 and then after a flowing move down the left Kevin Ryder ghosted in at the back post to score a fine goal. There followed another point from Joey Smyth before the visitors raised their first white flag at the end of the first quarter
Another fine finish to the net from Keith Joyce was sandwiched between two Johnny McGlynn points, and the Kilmeena lads were very much in the driving seat. At this stage of the game the Kilmeena defence was well on top with Alex O'Riain, Ross Mullen and John Ryan winning their individual battles. Conor Madden was putting in his usual combative display in midfield. The last ten minutes saw points from Seanie Ryder, Chris Heanue, Joey Smyth and Keith Joyce to leave the half time score;
Kilmeena 3 - 12 Ardnaree 0 - 1.
Playing with the strong breeze at their backs Ardnaree were determined to try and make a game of the second half. In the first ten minutes they rattled off three points. However, yet another pulsating move from defence saw Johnny mcGlynn on the final pass to deliver the ball to the net with all the composure of a player of more advanced years. Seanie Ryder and Aaron Mcginley followed up with fine scores from distance, only for Ardnaree to get some compensation with a goal to the roof of the net.
Entering the final quarter Kilmeena once again took the game to their opponents and after Keith Joyce swapped points with another Ardnaree score, Joey smyth combined well with McGlynn to fist the ball to the net. Ardnaree came back with another two points but the game ended with a final flurry of Kilmeena points from Ryan Mcgonagle, Niall feehan, McGlynn and Seanie Ryder.
This was an excellent victory with some fine play from the Kilmeena lads. The quality of passing and handling was excellent and when not in possession the work rate and tackling was of the highest order. In games like this it is very hard to single out individual displays but, Stephen Staunton, Keith Joyce, Niall Feehan and Sean Ryder were the pick of so many outstanding displays. Andrew Grealis in goal was excellent in his kickouts with Paul Moran coming off the bench to put in a good second half shift.
Scorers: Johnny McGlynn 1 - 4(1f), Chris Heanue 1 - 3(1 - 1f), Keith Joyce 1 - 2, Joey Smyth 1 - 2, Sean Ryder 0 - 4, Kevin Ryder 1 - 0, John Ryan 0 - 1, Aaron McGinley
0 - 1, Ryan McGonagle 0 - 1, Niall Feehan 0 - 1.
Kilmeena 5 - 19 1 - 07 Ardnaree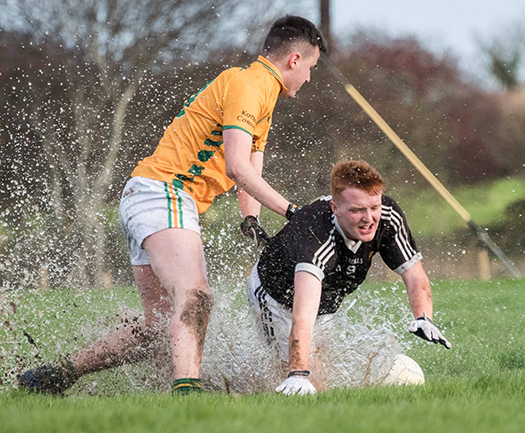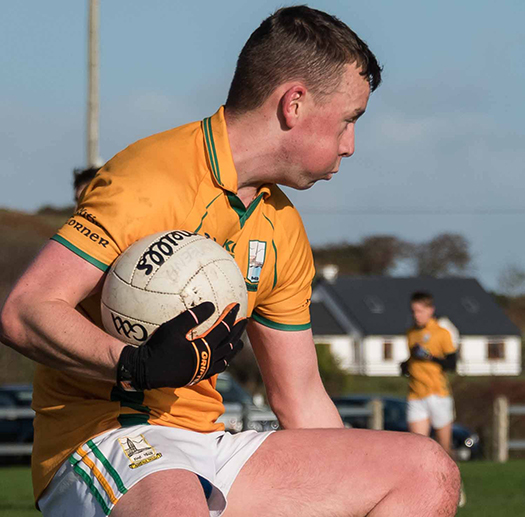 more...
The AGM of Kilmeena Bord na nÓg and Kilmeena Ladies Football Club will take place on Tuesday 21st November at 8:00pm in the clubhouse.
All parents and coaches of boys & girls are invited to attend. If you would like to become involved in the club in any way or manage a team for next season please come along on the night.
Kilmeena Bord na nÓg and Kilmeena Ladies will hold their underage presentation in the Castlecourt Hotel, Dome Suite on Sunday 19th November starting at 3:00pm.
This is always an enjoyable occassion and all family members are invited to attend along with the boys and girls themselves. Looking forward to seeing everyone.
Kilmeena 3-9 Ballintubber 1-12
Kilmeena storm to opening day victory
Kilmeena travelled to this opening fixture more in hope than expectation against a fancied Ballintubber outfit, and minus a number of senior players who were ruled out through injury and holidays. However, what unfolded was a display of sheer bloody mindedness that belied the youth and inexperience of the 15 players who togged out on the day.
From the throw in, Kilmeena were immediately under pressure and within three minutes, we were down by a goal and a point. The signs looked ominous, but two Johnny McGlynn frees steadied the ship. Ballintubber stretched the margin out to three again, but then a driving move through the middle ended with John Ryan rounding the keeper and tucking the ball into the net. Incredibly the boys in black and white were one point ahead after another score from Mcglynn at the end of the first quarter. But then Ballintubber stepped on the gas, and in the next quarter they slotted over six points, with the only response being a Johnny McGlynn free at the end of the half
half time Kilmeena 1-4 Ballintubber 1-8
Despite being four points down at the short whistle, the boys knew that this game was there for the taking and on the restart set about dismantling Ballintubbers confidence. A steady start saw another McGlynn free cancelled out by a Ballintubber point, and then the fun and games began. Johnny McGlynn slotted over a fine composed score followed very quickly by a Niall Feehan point, and then a minute later in a move which carved opened up the home defence Ryan McGonagle slotted to the net, and this was quickly followed by an outrageous free from distance from Chris Heanue. In the space of five minutes, Kilmeena had gone from four points down to two points up. There followed a period of Ballintubber pressure where Andrew Grealis in goals pulled off two outstanding saves, and then defying all the odds Kilmeena swept upfield and after excellent work from Keith Joyce, Alex O'Riain found the bottom corner. With ten minutes left, it was now very much a case of the walking wounded having to soldier on in a tough uncompromising battle, and battle on they did. Going into the last five minutes, Ballintubber reduced the margin to three. They were now driving on looking for the equalising goal, but the best they could muster was a point from a placed ball. There was more left in this battling Kilmeena team, and they built again from the back for Bailey Nevin to point from distance at the final whistle.
This was one of those games that goes down as a great one to win, and a bad one to lose. The sheer will to win was evident in a team that had no respect for the reputation of their opponents, and in their leaders they had individuals who were determined to ensure there was only one outcome to the game.
Best for Kilmeena were Niall Feehan, Andrew Grealis, Conor Madden, Chris Heanue
Scorers Johnny McGlynn 0-6(4f), John Ryan 1-0, Ryan McGonagle 1-0, Alex O'Riain 1-0, Niall Feehan 0-1, Chris Heanue 0-1(1f), Bailey Nevin 0-1
Match Report: John Doherty
An AED course will be held in Kilmeena Club house in the coming weeks to train people on how to use the defibrillator.
Anyone who's interested please text Trish on 086 8281455 as soon as possible.