Kilmeena U15 boys came up short against a highly fancied Mayo Gaels side in the County Division 2 league final in Islandeady on Saturday last. Kilmeena playing into the wind in gave as good as they got in a very entertaining first half. Both sides played open attacking football which resulted in fine scores to leave a half time score of Mayo Gaels 1-08 Kilmeena 1-05. Kilmeena were the happier going in at the break, having played against the strong breeze. However, with an injury curtailing the influential Mickey Hastings and the concession of a soft goal just after half time Kilmeena found themselves chasing the game from here on in. Both teams traded scores but ultimately Mayo Gaels class shone through in the end to leave a final score of 5-12 to 3-10. The Kilmeena lads can be hugely proud of their efforts but will agree came up against a better team on the day. This game brings the curtain down on a highly successful and enjoyable season for this group of lads (U15/16) who hopefully will stick together and go on to achieve more success in the future.
Team:
Cathal Cawley, Tom Smyth, Adam Sheridan, Chris Mc Glynn, Oisin Grimley, Ronan O' Donnell, Cian Moore, Mickey Hastings, Iain Murphy, Jason Mc Glynn, Mark Hastings, Chris Mc Nally, Robbie Staunton. Subs: Cillian O' Grady, Sean Prenty, Rory Nolan, Ben Lennon, Daniel O' Malley, Jamie Staunton, Tadgh Costello,
Match Report: Padraic Moore
Kilmeena 2-11 Charlestown B 1-13
Kilmeena Seniors crowned their league title with a close fought victory over a strong Charlestown team. This game was played at Bekan on Friday last, and turned out to be a cracker of a game between two evenly matched teams. Kilmeena were missing a list of regulars through injury, illness, and holidays, and Charlestown fielded a team which included a good few first team members.
Charlestown started the game with the upper hand and got off to a two point lead, and in a game that was taking its time to settle down Kilmeena got off the mark with a couple of scores of their own. Both teams were playing some good football, and again Charlestown opened up a two point gap. At this stage Charlestown were posing a real threat to the Kilmeena goal with Andrew Grealis pulling off two excellent saves
Then a fine flowing move ended with Seanie Barrett in space just inside the penalty area. Without hesitation he picked his spot and the ball thundered into the top corner of the net. If this goal was scored in a high profile county game we'd be talking about if for years. It really was that special. Now Kilmeena really had their tails up and soon after another exhiliirating move left Alan Ryan inside the cover and his sweet low drive found the net. Still Charlestown refused to lie down and finished the half with a brace of points to leave the half time score;
Kilmeena 2-3 Charlestown 0-8
The second half started at a frenetic pace, and early scores were exchanged with by both sides. However, Kilmeena gradually got to grip with the Charlestown danger men, and the Kilmeena boys were beginning to dominate their men individually and a flurry of excellent scores opened up a 5 point gap. Among the pick of them were fine scores from Paul Groden, John Ryan and Darragh Keaveney. The game was now entering its final ten minutes but Charlestown would not lie down. A point was then followed up with a long ball which resulted in an opportunist goal. Kilmeena pulled away with another score from Darragh Keaveney, but Charlestown hit back twice to level things up as the game entered injury time, and then that man Joey Smyth stepped up to stroke over a majestic score from distance. There was enough time for Charlestown to mount a series of raids but their efforts foundered on the solid rock that was the Kilmeena defence, and thus the seasons unbeaten league run was confirmed at the final whistle.
It was only fitting that the league trophy was presented to Liam Heanue at the end, who has led this team and soldiered with them in the trenches. Nicholas Keane accompanied him in the lifting of the trophy. Nicks brother James "Stanley" Keane could not be with us on Friday due to a stay in hospital, but Jamesie, like so many others is a vital component in this squad, and his attention to his water duties is greatly appreciated by everyone.
Best for Kilmeena on the night were Andrew Grealis, Joey Smyth, Niall Feehan
Scorers Darragh Keaveney 0-5 (1f), Sean Barrett 1-0, Alan Ryan 1-0,
Joey Smyth 0-3, Paul Groden 0-2, John Ryan 0-1
Match Report: John Doherty
Kilmeena GAA Club would like to offer their deepest sympathy to the Moore Family Carrowholly, on the death of John Moore, James St.
As a mark of respect the Kilmeena lotto is cancelled tomorrow night.
The girls and boys N.S. annual winter league competition got off to a flying start on Sunday. Four girls and six boys teams got to play their first-round matches in somewhat muddy underfoot conditions. Nevertheless, this did not deter the enthusiasm and determination with which all the players gave vent to their football skills acquired during the year. A word of thanks to the young referees from the underage ranks that managed the games so well. Well done to all.
Next round of matches takes place next Sunday at 12 pm.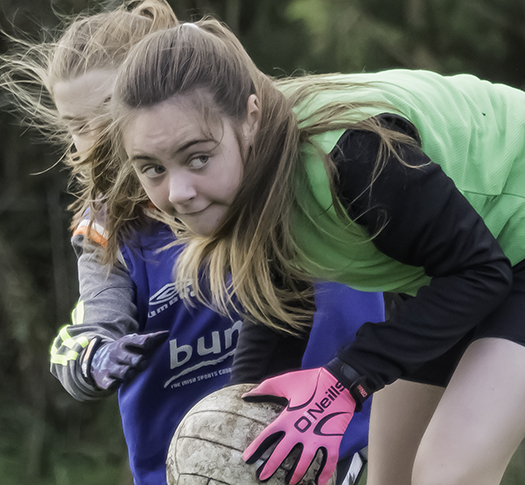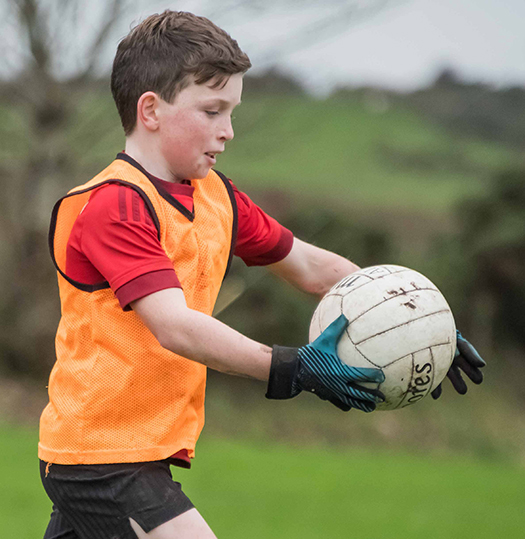 more...
Kilmeena U15 boys dug deep to secure a 1 point victory over a physical Ballinrobe side in a thrilling Dvision 2 League Semi Final at home on Sunday last.
With poor under foot conditions and a strong breeze this encounter can be billed as the proverbial game of two halves. The home side played into the strong breeze in the first half but struggled to get any foot hold in the game. Ballinrobe on the other hand played all the football and scored at will to lead comfortably by 3 - 07 to 0 - 01 at half time.
As the Ballinrobe lads headed into the comfort of the dressing room content with a job well done – game over, Kilmeena headed for the familiar surroundings of the dug out to hear the truth!!!!!!
The second half started at a frantic pace with the home side much more intent of making a game of it, 10mins in it was game on as the home side had clawed back 2 - 02 to leave 8 points between them. The home side now went for the jugular and outscored their opponents by 2 - 02 to 0 - 01 in the final 20mins to leave the game level heading into injury time, but a well worked move by the home side ended in a superb point by Killian O'Grady to secure a 1 point victory.
The 15 point comeback was completed by a fantastic hard working, sometimes physical second half performance.
The prize for this victory is a meeting with Mayo Gaels in the final on Saturday next in Islandeady at 03:00 in the Division 2 League Final.
Team:
Cathal Cawley, Tom Smyth, Adam Sheridan, Oisin Grimley, Ronan O' Donnell, Chris Mc Glynn, Mickey Hastings, Cian Moore, Mark Hastings, Jason Mc Glynn, Iain Murphy, Chris Mc Nally, Robbie Staunton. Subs: Cillian O' Grady, Sean Prenty, Daniel O' Malley, Jamiee Staunton, Ben Lennon, Rory Nolan.
Match report: Padraic Moore.

Kilmeena 4 - 6 3 - 08 Ballinrobe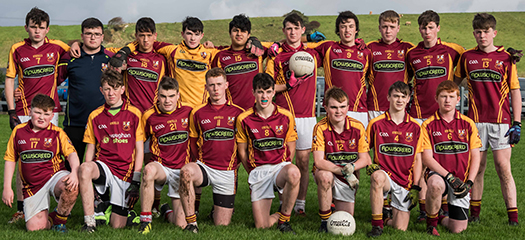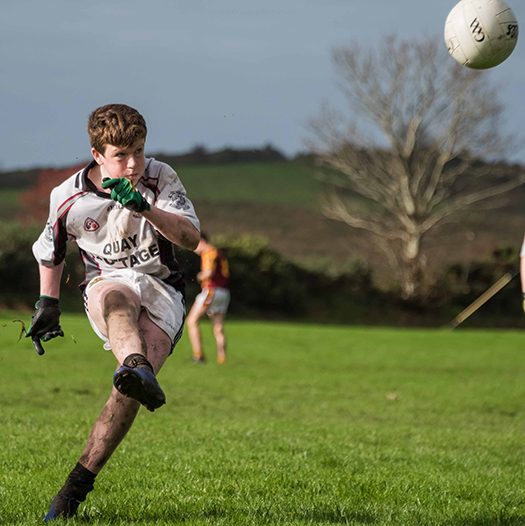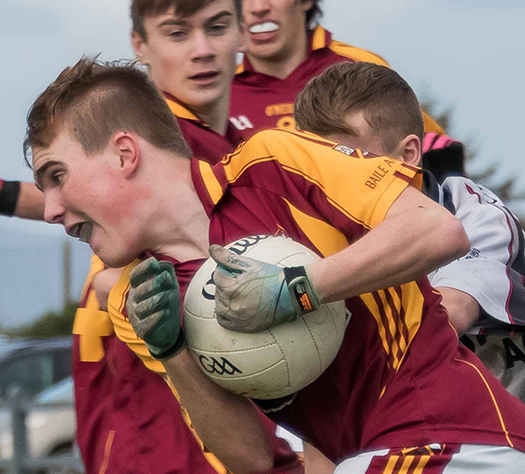 more...
Kilmeena V Ballinrobe U15 Boys County League Semi-Final 2017-10-22